9 trends in AI in restaurants
Technology is rapidly evolving in businesses, and the restaurant industry is no exception. Restaurateurs are learning that utilizing technology can make their operations smoother, growing their business. Advancements like AI in restaurants have made technology more accessible to businesses, introducing conversational language to make it easier for business owners, staff and customers to interact with technology.
The great thing about AI is that it's a technology that can cater directly to your business needs. Don't worry – this isn't a technology that will take over your business, rather work for you, improving operations and streamlining your kitchen. And even better, with evolutions like ChatGPT, accessing this technology is easier than ever.
Take a look at our tips on how you can implement AI into your business to improve the experience for both your employees and customers.
What is AI?
AI (or artificial intelligence) is the simulation of human intelligence by computer systems. AI uses machine learning and predictive analytics to interact with humans. AI systems have the ability to ingest large amounts of data, look for patterns and correlations and make future predictions or answer questions. AI takes machine learning to the next level by using a variety of techniques to generate creative solutions.
No two restaurants are the same, and the needs of each restaurant owner are different. AI has made working with technology more personalized to each business.
What is ChatGPT?
ChatGPT makes conversing with AI simple. It uses an AI language processing tool to allow for human-like conversations with a chatbot. ChatGPT was created by OpenAI, and taps into the power of Google to spit out answers to user-generated questions. It's like having your own personal assistant – for free!
The great thing about ChatGPT is that it's moldable. You can be as specific or vague as you want, performing endless tasks like dishing up food industry trends or writing your menu descriptions. You can specify the format you want the program to deliver (like a social media caption) and limit the amount of content it will produce (like asking it to use 200 characters).
Don't know what to ask ChatGPT? Ask them the best way to use ChatGPT for restaurants. For example, if you type "What are good questions to ask you about running my restaurant?" ChatGPT will respond with a list of questions you can explore like "What are some effective strategies for managing food costs in a restaurant?" or "What are some best practices for hiring and training restaurant staff?" Plug in those questions and ChatGPT will instantly serve you an in-depth answer.
Get started with ChatGPT by creating your free account.
Why should restaurants implement AI?
Working in the restaurant industry is chaotic, and turning to technology like AI can help make daily operations smoother. Using AI tools can help make your most ambitious restaurant ideas a reality.
AI integrations have helped restaurants by:
Improving efficiency and accuracy. AI eliminates the risk of human error, increasing your accuracy to improve efficiency.
Streamline Labor. AI can help complete restaurant tasks, reducing your labor costs and curbing employee turnover.
Making smarter decisions. AI analyzes restaurant information and data to help you make more informed business decisions based on industry trends and your restaurant's performance.
Creating content. ChatGPT can write menu descriptions, social content and marketing materials for your restaurant.
Cutting costs. AI can help you analyze your spending and finances to improve your ROI.
Customize the customer experience. AI can allow for menu customization to allow your diners to have more control over their dishes and experience.
Growing customer base. AI has helped restaurants grow their customer base by finding new diners and improving their reputation by responding to customer inquiries and creating engaging content.
9 ways to use AI in your restaurant
Ready to give AI a shot? Here are some ways you can utilize AI in your restaurant.
1. Phone operations
With the help of voice assistants, AI can talk directly to your customers and become your personal phone assistant. Answering phones requires employee labor, and if you grow your business, it can be difficult to always be on the line. In a Popmenu survey, 83 percent of customers will move on and find another restaurant if they try to call and get voicemail more than once. Enabling AI phone technology can allow you to care for your customers without the extra labor.
Tools like SoundHoud allow you to customize your phone system's answers to talk with customers to answer questions and take orders. You can customize your AI phone answering to take reservations, answer frequent questions and take messages.
2. Take orders
Self-service ordering is rising in popularity. It makes the process easier for customers who can easily see all the menu options at their fingertips, and it helps staff avoid wasting time taking orders. AI makes online ordering even easier by reacting to customer behavior and predicting their next move.
Fast casual restaurants have been some of the first businesses to embrace AI ordering. Taco Bell's in-store kiosks use AI to identify up-sale opportunities based on the customer's order, and McDonald's opened their first completely digital restaurant in Texas.
Not all AI integrations are a total robot takeover, and there are simple ways you can use AI to help with customer orders.
POS integration is one of the most common AI tools restaurateurs use. These tools help simplify order and menu management by connecting your different POS systems. This way you can keep track of orders, inventory and staff all from one place.
3. Get industry insights
Keeping up with the ever changing restaurant industry is difficult, especially as customer habits and tastes change. AI is a great tool for gathering and sorting through trend information. ChatGPT taps into the power of Google, making research simple. Try asking ChatGPT questions about the restaurant industry to get insight into customer cravings.
What kinds of questions should you try asking ChatGPT?
What are the top ordered restaurant foods?
What fruits and vegetables are in season right now?
What is the most popular way to serve chicken?
What are the top ordered dinner foods?
4. Enhance your menu
Research shows that menus with images and dish descriptions resonate better with customers. Now, you can create the perfect menu with the help of AI. You can use ChatGPT to generate menu text by asking them to create a one-sentence description of your dishes. Looking for menu photo tips for your cuisine? Ask ChatGPT for help on composition and style. Wondering what recipes are in season? Ask ChatGPT what's trending.
AI's influence in menu engineering doesn't stop there. Technology has enabled restaurants to get a better handle on their inventory. Solutions like ClearCOGS offer a kitchen ingredient management system that can keep track of your inventory to help you plan food preparation and ordering.
5. Analyze data
Odds are you have many types of restaurant technology in your restaurant, and some of these systems are collecting valuable data. Take Grubhub, for example. Our platform collects data on your customers, and serves it up to you in our Customer Insights dashboard.
Digging into data is one of the best ways to understand your customers, staff, supplies and overall business. Don't bite off more than you can chew by trying to dig through this data on your own. You can use AI to analyze data, segment customers, organize information and find insights.
Want to create a targeted marketing campaign? Copy and paste your customer data into ChatGPT and ask them to pull out repeat customers. You can then create marketing materials specifically tailored to this customer base.
Let's say you want to understand your customers' impressions of your restaurant. You can copy and paste the reviews into ChatGPT and ask it to look for the main trends. You'll then get insight into the general sentiment of your customers to help make adjustments to make their experience more positive.
You can also use AI to track operational data from your restaurant. AI can help you analyze busy and quiet business hours so you can adjust your staffing accordingly.
6. Keep track of finances
When it comes to keeping track of your finances, you only want to use technology you can trust. With POS integration, you can search and find fraudulent or inconsistent transactions, look at purchasing data and understand transaction trends. With this info, you can better prepare your inventory and adjust prices based on the Cost of Goods Sold (COGS).
You can use AI to unpack your restaurant's finances. ChatGPT can help you analyze your pricing menu so that you can competitively price your items. You can ask ChatGPT the average price of a specific menu item, or how much specific ingredients cost in different seasons.
7. Organize operations
As a restaurant owner, you have a lot on your plate. Relieve some stress by allowing AI to take care of tedious tasks. As we've mentioned, POS integration can be a lifesaver for restaurant owners by tapping into AI to streamline operations.
Turning to technology to handle these tasks that could take employee hours gives your staff back valuable time they can invest in other areas of your business. AI tools can help you schedule employees based on busy times so that you're prepared to handle a rush. You can also use your POS system to keep track of inventory so you can get 86 items as soon as they run out.
AI can help you make informed decisions about your restaurant, predict inventory changes, customer trends and employee needs so you can stay on top of your business.
AI can also help you communicate with your employees. Need help creating onboarding materials for your staff? ChatGPT can write it for you. Just ask it to write a training guide for a certain position.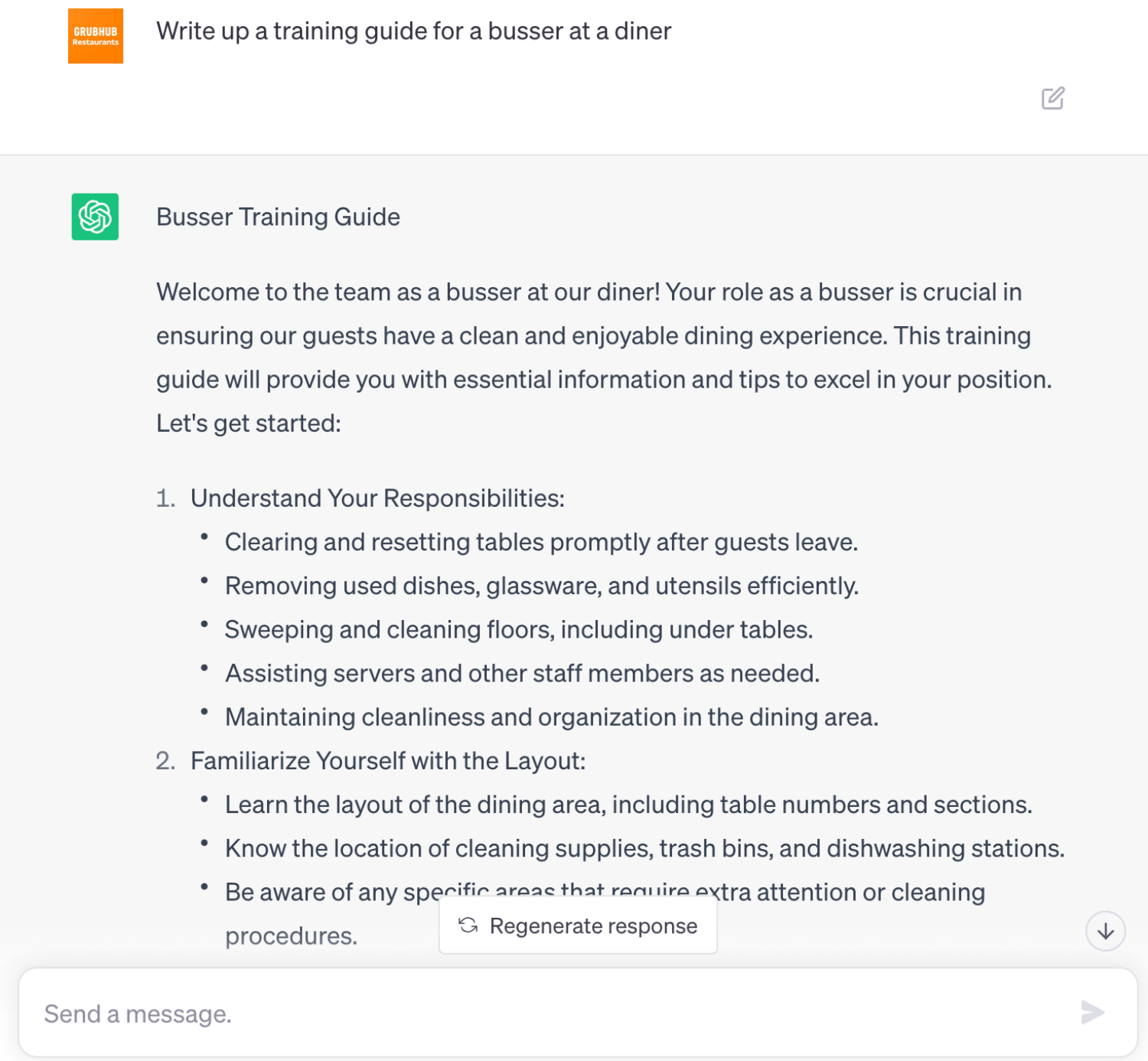 8. Create marketing materials
Without marketing, customers won't know about your restaurant. But with marketing campaigns getting more creative, it can be hard to come up with ideas that stand out. That's where AI can come in – generating ideas and copy for all your marketing needs.
A good marketing campaign covers all bases: social media, email, website and paper inserts. ChatGPT can help you write copy that is optimized for each platform. Let AI help you create targeted marketing materials that resonate with your customers.
Social media marketing is one of the best ways to reach customers directly, but coming up with what to post can be overwhelming. AI can help you create content, write captions and understand trends. You can use ChatGPT to come up with social media captions, hashtags and respond to comments and messages.
9. Improve the customer experience
Finding and attracting new customers is difficult for any restaurant. You can use AI to help you interact with customers to ensure they have a positive experience with your business.
Responding to reviews is a tedious yet necessary task to keep your customers satisfied. Solutions like Chatmeter have made understanding and interacting with customers easier by compiling all the online conversations about your brand.
AI can also help you craft a response to negative reviews. Timeliness for responding to these reviews is key to showing a customer you care. If a customer writes a review on your website claiming that their service was poor, you can ask ChatGPT to craft a response.
AI features on online ordering tools remember a customer's history to customize featured offerings based on their behavior. When a customer orders from your restaurant on Grubhub Marketplace, the platform will remember their preferences when they come back to order again. This technology helps make restaurant visits more consistent, prompting repeat customers to continue ordering.
Grow your restaurant technology with a trusted partner by your side
Embracing the latest trends in restaurant technology can help grow your business. Innovations like AI give restaurants the power to streamline their owners' operations and customize their customer experience. POS tools have made embracing new technologies even easier by improving how restaurants manage orders, inventory and customer data.
No matter how you plan on tapping into AI tools at your restaurant, there's no doubt that this technology is here to stay. Why not get ahead of the trend?
Ready to grow your business and attract new customers? Partner with Grubhub today to tap into the latest in restaurant technology.