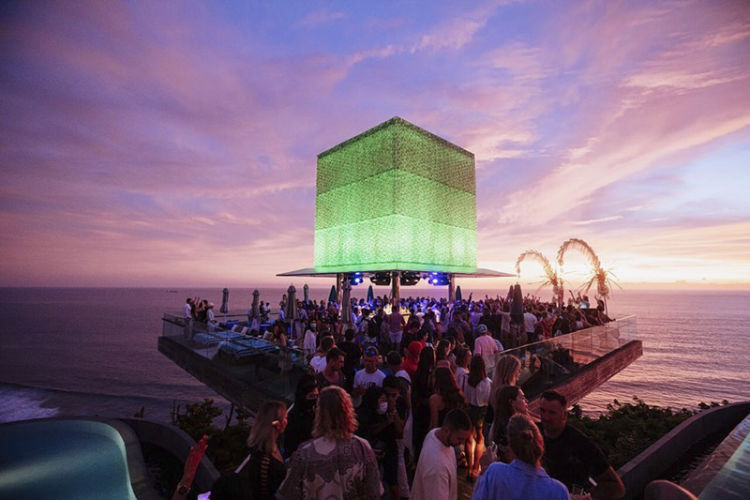 Bali Nightlife – Where to go and what to do.
Bali Nightlife – where to go and what to do.
Where do you go out nowadays in Bali? Well, that would depend on what style of entertainment and nightlife you're looking for. A lot of people nowadays are into the day time/early evening beach clubs and bars along the coasts of Bali. Most of the big beach clubs are open seven days and pumping out the good times day and night (until 10pm or 12 midnight). Savaya (formerly known as Omnia) on the south coast is still the must-visit location with international and local DJs, great service, drinks, and for a clientele who like to see and be seen. Not far away from Savaya is Ulu Cliffhouse, which has had some phenomenal international shows recently and Single Fin. They both look west near Uluwatu surf break and catch a bit more of the sunset−and that's when they are at their busiest. More on Uluwatu here.
Closer to town and in Seminyak you can try a more casual and very popular beach bar La PLancha and their multitude of neighbors on Seminyak beach from Double Six to Gado Gado. Further north along Seminyak Beach, Cout d'etat has been a mainstay giant in Bali food, style, tunes and parties for the past couple of decades. Up to the new Batubelig Beach Moriand the more casual beach bars nearby like 707, Il Lido are worth a look, especially on Sunday afternoons. Further up in Canggu, Cafe del Mar, Finns Beach Club, LV8have a new neighbor, Atlas Beach Club on Berawa beach, which opened last year. Some love it and others are less enthusiastic about the dignity of it all. It looks to be the perfect spot for people who like banging EDM by the beach – there is also a massive indoor venue at Atlas too. Echo Beach area has a few casual bars on the beach and further north near Pererenan beach some nice bars have popped up recently on the beach. All along the coast from Jimbaran, Kuta, Seminyak there are plenty of small beach side warung bar options – think upturned beer crates and styrofoam cool boxes – mostly with cheap, cold beer, but most get quiet after sunset.
More about Bali Beach Clubs here
The proper nightlife still starts around midnight in Bali clubs but some venues manage to get some punters in earlier.
PETITENGET
Petiteneget has been taken off right from where it stopped after the pandemic closure in March 2020 and is still the main area to hang out at night. Most of the clubs and bars were clandestinely open for almost the entire pandemic.
Some clubs like the three floors ShiShi in Petitenget offer free flow drinks to entice an early crowd and it works. ShiShi is the home for commercial pumping music from EDM to Hip-Hop, so if that's your style, it's the place to be and if you're early enough you might even get a free drink, too. Wednesday's Ladies Night is the pick for girls (free drinks and food) and guys understandably hanging out to chase all those gals. Early till late.
Just down the road is the smaller club, Red Rubywhich has taken the mantle in recent times of being THE house/techno spot on the Petitenget strip. It does get busy with people who enjoy the underground scene and vibe, but mostly late. Some Wednesdays you may even catch The Beat crew spinning a few tracks there. After midnight.
Further down Jl Petitenget and into a side lane Mrs Sippy is back in action and already bringing in the big star DJs. Daytime/early evening.
Back up and across the road from Red Ruby is the Faith Rooftop which is super stylish and uber-chic spot with a view. Hip hop features twice a month, but DJs on rotation other nights. They do have some good underground sounds too. I like this place. Sunset and some later parties. (Temporarily closed for renovations)
Heading north up around the bend is the new Shady Flamingo with top notch cocktails, DJs and vibe. It's looking good. 8pm to 3am.
If you are into live music and especially live indo pop music you can't miss Nineteen Lounges just up from The Shady Flamingo. They have the best local bands playing mostly Indonesian hit songs (Indonesian hits). early.
The Forge is up the road and around another bend. It's a fun place with great food and drinks. Being owned by the same folks as ShiShi (and previously Sky Garden) you're guaranteed a great vibe with DJs every night. It is open 24/7.
Ling Ling's, next door is still a fave spot for the younger crowd, with their waitresses in funky costumes and a real hip hop urban kinda feel. There are all kinds of offers every night to keep you entertained and fed. Early till late.
Right at the top of Jalan Petitenget you can find Da Maria which pumps the DJs from Hip Hop to house techno depending on the night. Also offers pretty decent Italian food. And further up and across the road the clandestine, recently renovated and enlarged 40 Thieves is a cool and casual bar/club. From 11pm.
Back down to Jalan Kayu Aya, every night of the week La Favelas is turning it on with hip hop through the main two floors of the venue while upstairs the third floor is the house techno area. Great drinks can also be found on the third floor bar called Attica. La Favela packs in a generally younger crowd, but everyone is welcome and seen in this fun and busy club. From 10pm.
Across the road is the mainly older crew's Red Carpet which has a lot of sophistication and up-market carry-on with mainly 80's style pop music. Early till late.
One of the kings in the Petitenget area has to be Mexicola. The Mexican restaurant turned nightclub has a great formula of fun, mostly older, mashed up tunes and flowing tequila shots keeping the dance floor pumping seven nights a week. They have Balinese nightlife style down to a T and packed every night with a full on tourist party crew. Early till late.
SEMINYAK
Seminyak still has some hot spots but mainly down Jalan Dhyana Pura (now officially named Jl Camplung Tanduk). At the top we have Kingsway which offers fin-ish dining and small room clubbing. A very cool spot. 11pm.
The alternative clubs are further down the road, which can't be missed, with people spilling out onto the streets every night of the week in all kinds of garbs. Flamboyant is a word that comes to mind in this area. Mixwell, Bali Joe, 66 Bar and more offer all kinds of entertainment, diversion and loads of fun for anyone that's game. From 10pm.
Very good late night clubbing can be experienced on the same road too. Opera or is it now called Obsession (a former name of venue on the same site) and The Warehouse have been the places to be after midnight and beyond with underground sounds going till very late. Dat Dash is another smaller late late night club down the road further on the right. late.
One of Seminyak's most loved underground clubs, Jenja is back open on Jalan Nakula. With a new management and outlook they are now open on the weekends with most nights packing them in. It's always great to be back enjoying some great sounds and shots with Mac and the crew.
Now, if you are looking for something local you can always try Phoenix KTV which has a rather pumping local and some Caucasians crowd late into the night. Last drinks possibly here. Late Late.
CANGGU
Canggu starts basically over the bridge from Jalan Batubelig into Berawa. First happening spot right there is a beach club called Cafe del Mar. It's a spacious area right in front of the ocean and their sunsets are generally pumping most days. Big acts sometimes pass by too. Behind the Green Door has a pretty young expat and local crowd. It's a smallish bar upstairs from a now rather fancy restaurant called Maize, with a variety of DJs playing. It can definitely be fun after midnight and onto late. Finns and Atlas beach clubs fight it out right next to each other on Berawa Beach. Always packed out there with mainly Aussie and Indonesian tourists. They both have big name DJs, but probably Atlas more often than Finns.
There seems to be many nightlife spots opening in Berawa lately, but if you like cozy bars you can't beat The Shady Pig that opened during the pandemic and being a hidden speakeazy was a huge hit from day one. Miss Fish has suddenly become a hit on the same road – it's a classy Japanese restaurant and lounge bar with cool DJs and vibe seven nights a week. Also worth a look is Riviera restaurant near Frestive supermarket which has a very cool expat bar feel about it, reminds me of the old A Bar in Seminyak many years ago. An early start down there.
Need some more Canggu information? Click here