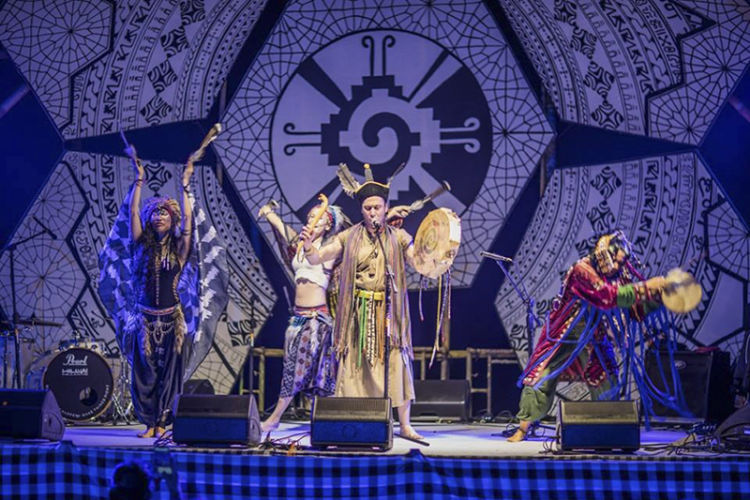 Bali Spirit Festival is back this weekend. Always a great time and not to be missed.
Bali Spirit Festival is in its 15thth year and continues to grow stronger on each outing. It has had its challenges in recent years like us all, but it is back in all its glory this year.
I have been to many of the events over the years, and like many people, I always look forward to it every year. I recall one year the organizers even named the bar at the music section The Beat Bar in honor of ourselves, bless them. The Beat has always been close to the BSF and I am very happy that we are still there.
Since I am not much of a yogi, or yoga practitioner, I can't comment on that side of the festival, even though we have covered the daily events extensively within the pages of The Beat, thru writers like Vero and Silke before her, but my main personal focus and interest is the main stage and the freaky, hippy, spaced out, and at times, totally beautiful music that is featured every night during the BSF. The musicians and bands come from all over the world and are probably some of the most interesting and talented musos you will ever get the chance to see.
Every year when I have dutifully gone along to check out the music I have never been disappointed, nor surprised at how good it is, because it's just that, totally entertaining and even bordering on amazing. Obviously, not every act is to one's preference, but in the whole, the experience itself is similar to a great DJ's set, a journey of light into the dark with moments of highs and lows, from ecstasy to previously unknown depths. And all this can happen in one night's entertainment.
And the funny thing is that mostly I have never heard of any of the talents before that evening. And I expect this year to be no different.
The list this year is again long and the main focus for the music is after dark Friday, Saturday and Sunday. As you would expect at any good festival the line-up builds through the night with the main, or best well-known acts, appearing last each night. You can check the full line-up list here.
There are still tickets available like this one:
💥 Night passes – includes access to Markets, Grove main stage and Tea Temple stage after 430 pm.
💥 Spirit passes – includes access to markets, all stages day and night, healing area and daytime events in community pavilion and some other studios.
💥 Day Passes – choose your day, all access baby!
💥 Full Festival passes – super all access. A limited amount available.

Use code THEBEATBALI to receive a Rp. 50,000 discount on any ticket.
TICKETS