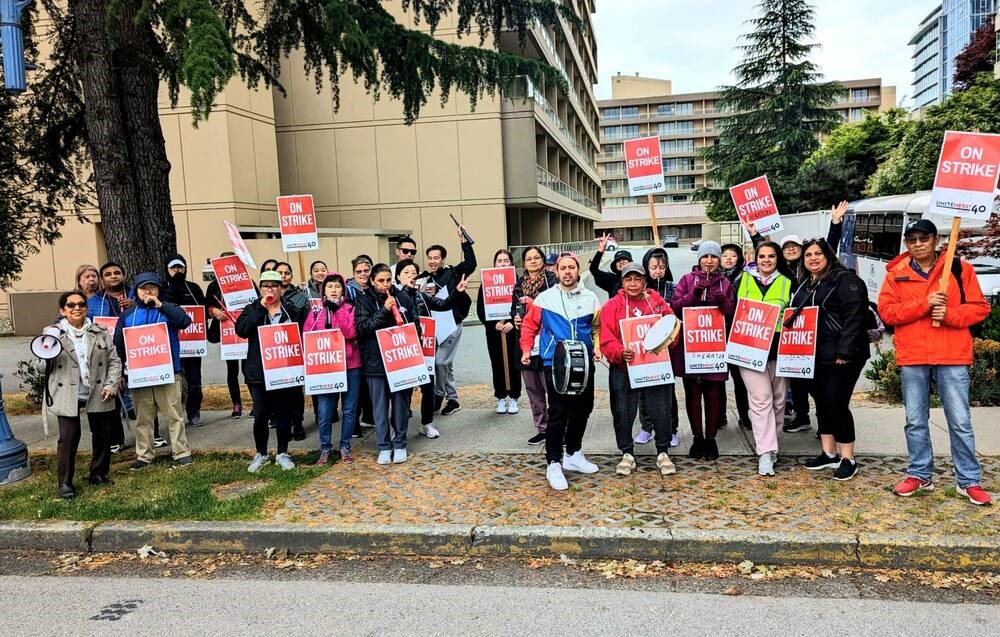 Boycott slapped on three Richmond airport hotels
The BC Federation of Labor has declared a public boycott of the Sheraton Vancouver Airport and its sister hotels next door
A union federation with around half a million members has declared a boycott of three of Richmond's airport hotels.
The BC Federation of Labor (BCFED) has declared a public boycott of the Sheraton Vancouver Airport, in support of hundreds of UNITE HERE Local 40 members currently on strike at the hotel on Westminster Highway.
The action extends to the Sheraton's sister hotels next door – the Hilton Vancouver Airport and Marriott Vancouver Airport – which are operated by the same company.
"Our movement doesn't use boycotts lightly," said Sussanne Skidmore, president of the BC Federation of Labor.
"But when an employer repeatedly treats their workers with callous disrespect and appalling unfairness, a boycott is exactly the right response.
"UNITE HERE Local 40 workers deserve our full support — and this employer doesn't deserve a dime of our business,"
Officers of the BCFED, representing nearly 50 affiliated unions with approximately 500,000 members across the province, voted to declare the boycott on June 23.
The BCFED is urging affiliates and the broader public to seek alternative accommodation and not conduct any business with the three hotels until an agreement is reached between the employer and the striking workers.
The strike at the Sheraton is into its second week, with UNITE HERE Local 40 members picking for living wages.
"We are grateful for the support and solidarity from the BCFED. This boycott sends a strong message to the employer that hotel workers will not be ignored – our members will continue in their fight for living wages, supported by our allies, until they win the respect and fair contract they deserve," said Zailda Chan, president of UNITE HERE Local 40.
The decision to support the boycott comes on the heels of a ruling by the BC Labor Board last week declaring the Sheraton Vancouver Airport violated labor laws by using unlawful replacement of workers to perform bargaining unit work of striking workers.
The Labor Board ordered management to cease and desist and to provide a daily list of all permissible replacement workers that are performing bargaining unit work on that day, with their specific assignments and duties.
Workers are picking the Sheraton daily from 7 am to 7 pm, while fellow members at the Radisson Blu Vancouver Airport (formerly Pacific Gateway) in Richmond also remain on strike.