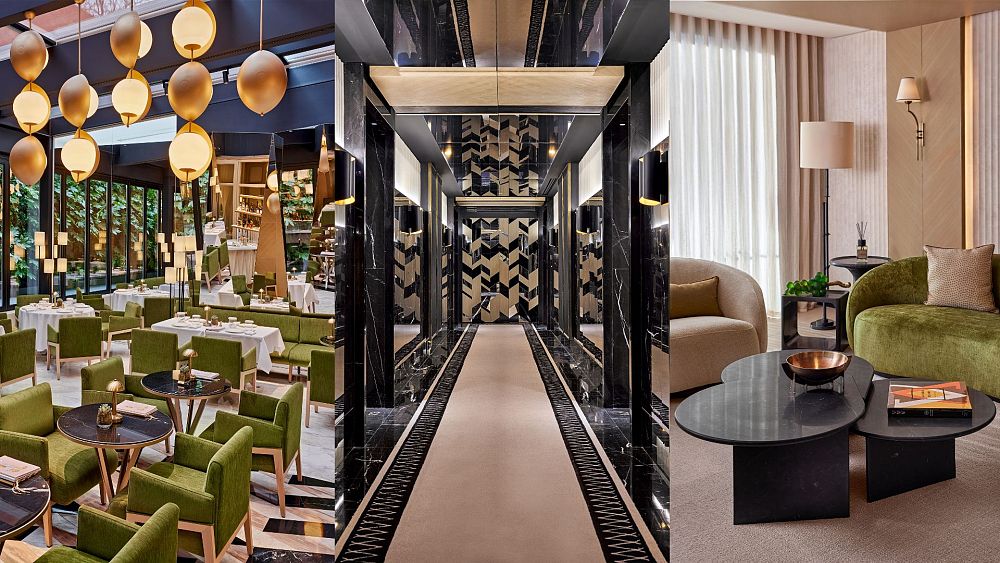 Fashionable furniture: The hotels in Europe put design center stage
When selecting furnishing, "hotels are normally looking for something a bit more wow in terms of installation and maybe larger in scale," designer Alexander Lamont says.
One of the latest hotel openings in Istanbul is VAKKO Hotel & Residence, located in the upmarket Nişantaşı neighborhood.
It feels like staying in a design showroom – the corridors are paneled with sleek black marble, the rooms have contemporary sculptures on display and the restaurant captures the style of a chic Parisian bistro.
This is the first hospitality venture of Turkish fashion house VAKKO and joins a growing trend of design-led hotels where stylish furniture and stand-alone interior pieces take center stage.
How is furniture designed for hotels?
Alexander Lamont is a Bangkok-based, British designer known for his furniture, lighting collections, art and accessories.
Some of his best work has been used in prestigious hotels such as The Connaught, The Mandarin Oriental Doha, and The Setai Miami beach hotel.
Although he does not design specifically for the hospitality sector, there may be a reason his pieces are popular there.
"They have to be well made to stay strong over many years and the materials have to be strong and natural to grow more beautiful over time," Lamont says.
He uses materials such as parchment, mica, eggshell, lacquer, gold, oak and bronze in his designs.
"I like to think I use the most beautiful materials in the world," he says. "They are natural and have a vibrancy in their character and an austerity or flamboyance is formed through the processes to work them."
Bold and bright
When selecting furnishing, "hotels are normally looking for something a bit more wow in terms of installation and maybe larger in scale," Lamont says.
The Four Seasons in Madrid, which opened in 2021, is a prime example of this. The foyer is graced by a giant, whimsical KAWS sculpture of two black cartoon mice while an installation of glittering gold dots enlivens the stairwell.
The hotel commissioned nearly 1,500 works over all, which appeared in the restaurant and all the rooms, from young Spanish artists.
Unique design pieces give a hotel character and a strong sense of place. "Hotels want to create human environments that are all about quality and refinement," says Lamont.
"Our pieces are often chosen to bring that tactile and warm accent."
For some hotels, their design is one of their primary attractions. In Venice, Palazzina Grassi has become renowned as a rare design treasure. The whole interior was the vision of French industrialist designer Philippe Stark.
It features oversized chess pieces, illusionistic mirrors and eccentric, colorful glass lighting from Murano.
Big-budget hotel furniture
Personalized hotel furniture and furnishings are mainly found in high-end hotels because budget plays a big part.
Unfortunately, Lamont reports that some of his designs have been copied when hotels don't have the funds.
"Alexander Lamont designs are often selected for projects, but as the project develops, budgets shrink and our designs may be replaced with cheaper or copied items," the designer says.
As such, Lamont has learned to work with those companies who value his designs and are committed to using original work.
"If we have a hotel client that we respect and who respects our work, then we do very beautiful things together," he says.