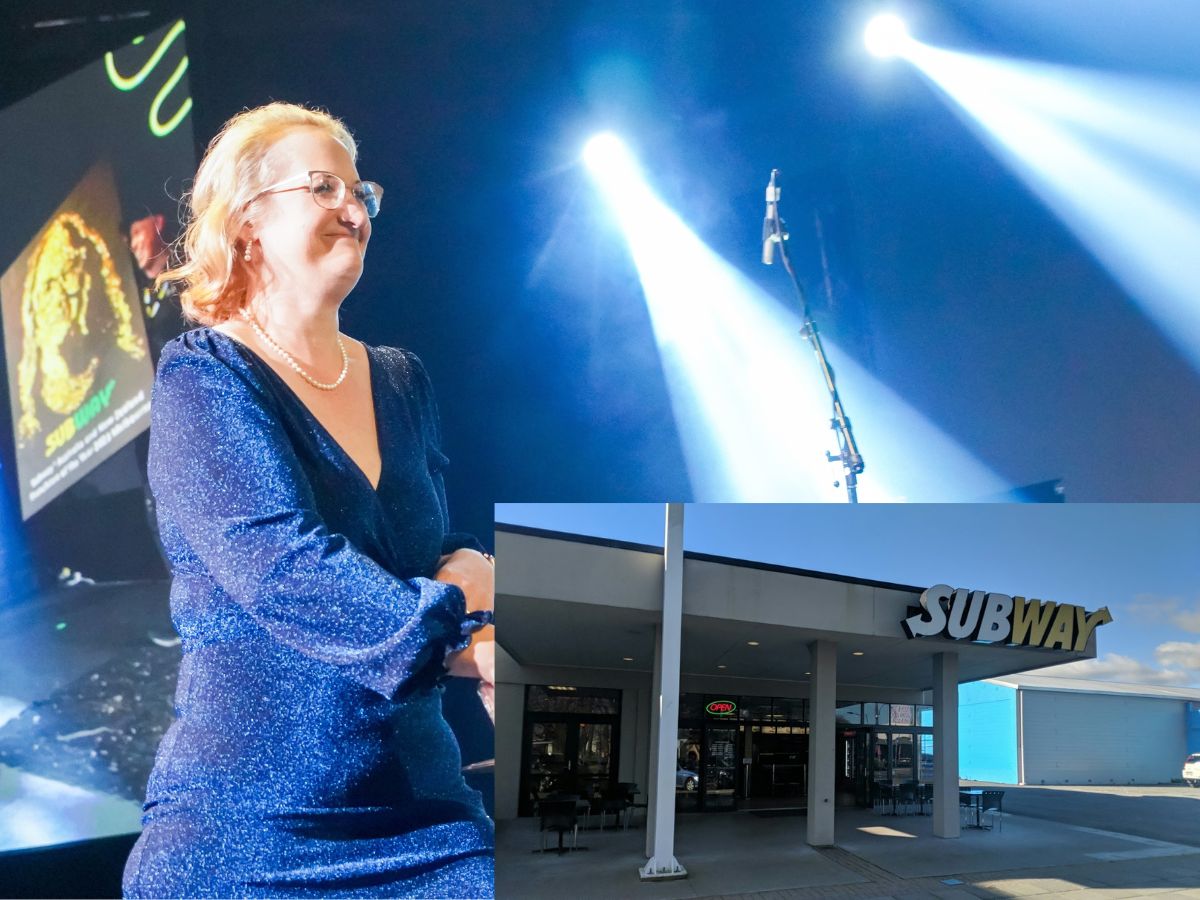 From Sandwich Artist to first NZ Franchisee of the Year –
After 17 years in the Subway family, starting as a Sandwich Artist to now owning three restaurants, Wendy Stewart has won the 2023 Franchisee of The Year title. Subway® ANZ has awarded the title to the New Zealand business owner, making her our country's first winner in the award's 30-year history.
The award recognizes a franchisee who stood out amongst their peers in the ANZ region, provided an exceptional contribution to building the brand, and saw success across multiple areas, including overall territory results; high sales and communication performance indicators; and positive contributions to the local community.
Wendy Stewart was recognized by her territory team as an Outstanding Franchisee in 2022 and now credits the successful reception for the 2023 award for hard work and her team.
"My ingredients for success are my team; they're my family. We have worked really hard and strive to be the best. We always want to beat Subway's high standards by going above and beyond," Wendy said.
"I feel so humbled to receive the award and can honestly say it's because of the team and the work we put in giving back to the community. Since COVID, we have given everything we can back to the community and as a result, they give back to us. I believe this is what sets us apart from anyone else."
The Franchisee of the Year award is the pinnacle of accomplishment within the Subway franchisee system.
Seven outstanding franchisees were nominated out of more than 800 franchisees across Australia and New Zealand for the award and the winner was announced at the 2023 Subway Convention held in May in Melbourne.
Wendy is a multi-restaurant owner of three separate Subway restaurants in Cambridge, Matamata, and Hamilton, and leads a team of 41 dedicated employees.
Her management team of 10, collectively have more than 55 years of Subway experience, many of whom have worked with Wendy for more than five years.
"I always wanted to own my own business and felt that Subway was special. I like being bold and I like taking those steps that others would be too afraid to do. For example, when COVID started, no one did delivery in our local little town. So, I decided to take a step to not only do it well but master it," Wendy said.
Wendy says she's the type of franchisee who wants to inspire her team to be better every day and believes her team remains dedicated because of the culture and ethics that have been fostered.
"I believe they stay because it's more than a pay check, they are part of a community and culture. There is genuine job satisfaction among staff. When you empower your team and give them challenges to be better, and they are, they feel empowered. So, we are constantly training our team to level up and give them tasks one step higher than they think they can do."
In addition to highlighting and supporting local businesses in the community, the positive contributions to the community by Wendy and her team have also gone on to make a difference to people's lives.
"We had a young girl with a learning disability apply for a role. We created a role for her as part of a work experience opportunity, where she came in three days a week and assisted the team. After a month of her working with us, her mum rings me up and tells us that we saved her life. We gave her a reason to get out of bed. That is the reason why I am in business," Wendy said.
While this is one of the largest, most recognized achievements, Wendy is definitely not stopping to rest anytime soon.
"Every week, we hand out platters to local community groups or local businesses, we put up a photo of them holding the catering with a blurb about the business and why they deserve it. We also run our school lunch program every Friday. Wherever the community needs our support, we are there," Wendy said.
Shane Bracken, Managing Director for Subway Australia and New Zealand says the Franchisee of the Year award recognizes someone who is a super star in all respects and represents not only consistent restaurant excellence but also continued support of the core values ​​of the Subway System.
"It's our greatest pleasure to announce Wendy Stewart the 2023 Franchisee of the Year. Her dedication to her team, customers and the community is admirable and it's people like Wendy that help shape the brand into what it is today and make it such a great place to work. A huge congratulations to Wendy and her team for this monumental achievement," Bracken said.