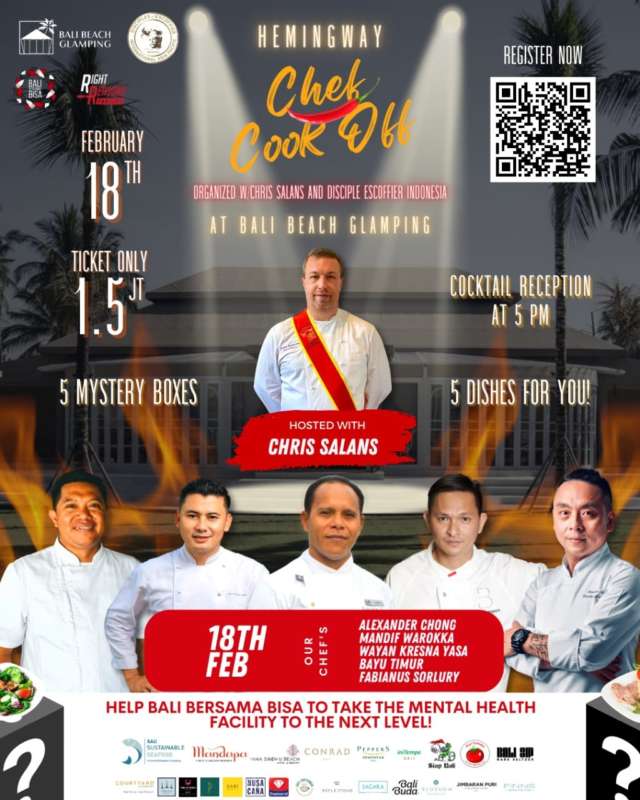 Join the Hemingway Chef Cook-off to support Mental Health in Bali
The Best Chefs of Disciples Escoffier Indonesia go head to head in the Hemingway Chef Cook-off on February 18th to support Mental Health in Bali!
Hemingway Cook-off will be hosted by famed chef Chris Salans at Bali Beach Glamping.
Cocktail Reception at 5pm followed by 5 Dishes by 5 Amazing Chefs and 2 Desserts.
The chefs are Alexander Chong, Mandif Warokka, Wayan Kresna Yasa, Bayu Timor and Fabianus Sorlury and what makes it more fun is that in the end you will be the judge of the Hemingway Top Chef 2023!
Bali Bersama Bisa is a 10 NGO collective focused on providing mental health services for everyone! BBB operates an all-inclusive facility by the people, for the people. The BBB or Bali Bersama Bisa community is made up of marginalized communities often facing stigma, that have come together to provide specialized treatments for those facing the same or similar conditions. It consists of bi-polar, schizophrenia, physical disabilities, being diagnosed with cancer, HIV positive, transgenderism, addiction, and those suffering from suicidal tendencies.
Your attendance of this event will help Bali Bersama Bisa to take the mental health facility to the next level with inpatient treatment options, detoxification, stabilization, and other necessary procedures for those currently unable to access professional mental health treatments.
Discounted/Early Bird Tickets, Tables Available!
Accommodation Packages Available!
www.rightreasons.net/pages/hemingway-chef-cookoff