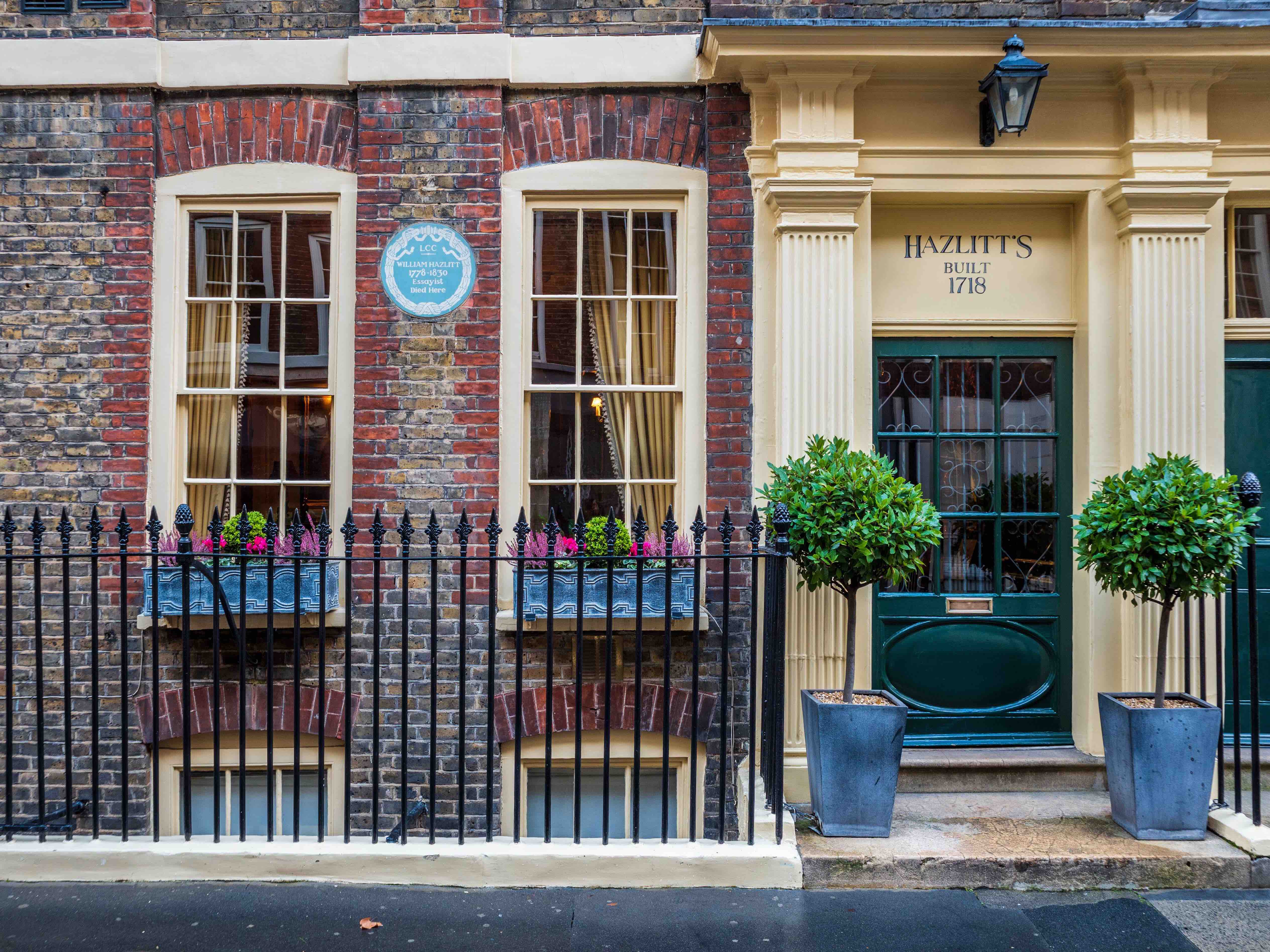 London hotels with a literary twist
There's something rather wonderful about the idea of ​​settling down for the night in the spot where one of your favorite writers once slept, played or dreamed up a plot. There are a range of hotels across London with a vast array of bookish associations: some have played host to writers both famous and infamous, while others have been commemorated in novels, poems and short stories. Their present-day owners are all too happy to show off their literary heritage, should you ask nicely. Here are six with the most interesting tales to tell.
Hazlitt's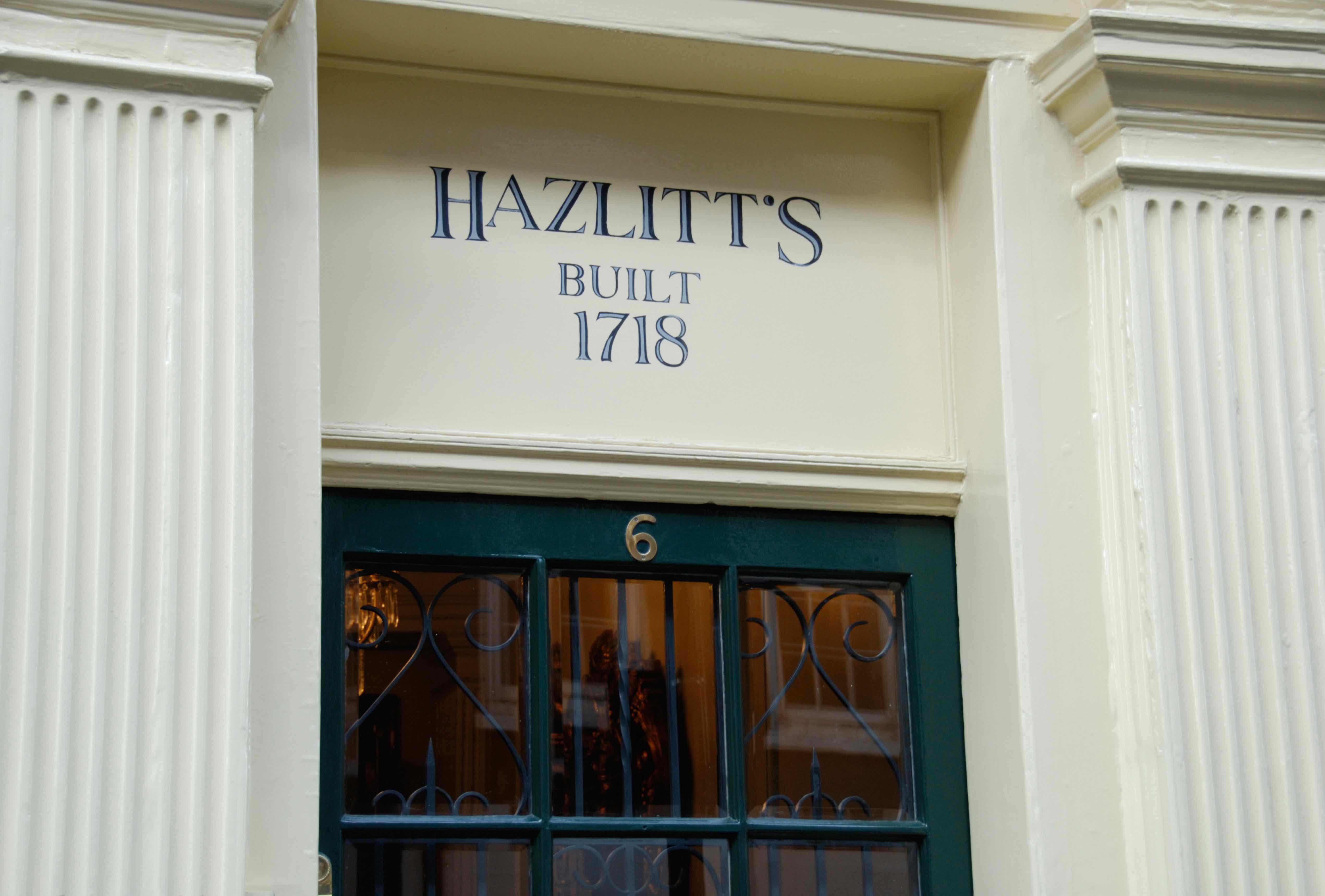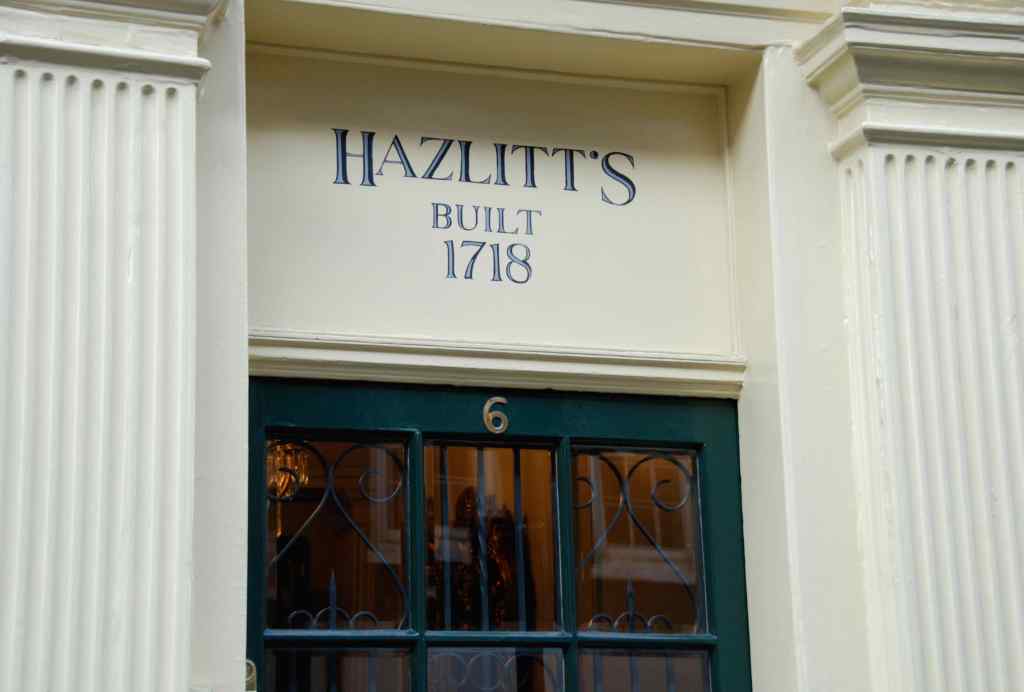 There are few London hotels with so existential a literary connection as Hazlitt's on Frith Street in Soho. Its carefully restored Georgian townhouses contain 6 Frith Street, where the essayist and critic William Hazlitt lived – and died – when it was a boarding house. His resourceful landlady, keen to relet his room, kept his corpse under the bed for a time before it could be buried in the nearby St Anne's churchyard.
Today, thankfully, you're unlikely to find any corpses under the beds in the 30 rooms of one of London's most inimitable boutique hotels. You're informed when you arrive that this is a home, not a hotel, and that the spirit of informality permeates the experience; there is no restaurant or bar, just well-stocked honesty bars in book-lined sitting rooms and libraries, complete with roaring fires and 18th century portraits.
The individually designed bedrooms, with four-poster beds, free-standing baths and antique furniture, are all suitably writerly in style. If you stay in the Madame Dafloz room, for example, the comprehensive room guide says that she was 'a French lady of the night' who lived and worked at 46 Frith Street. Described as being 'young and lovely' and having a 'roguish leer in her eyes', she has a reputation for cleanliness and was featured on Harris's List of Covent Garden Ladies, the famous directory of London streetwalkers. Although matters have moved on in the intervening centuries, when you're having your (excellent) room service breakfast and one last peruse of the library before you check out, you may find that the spirit of a bygone age lingers.
The Dorchester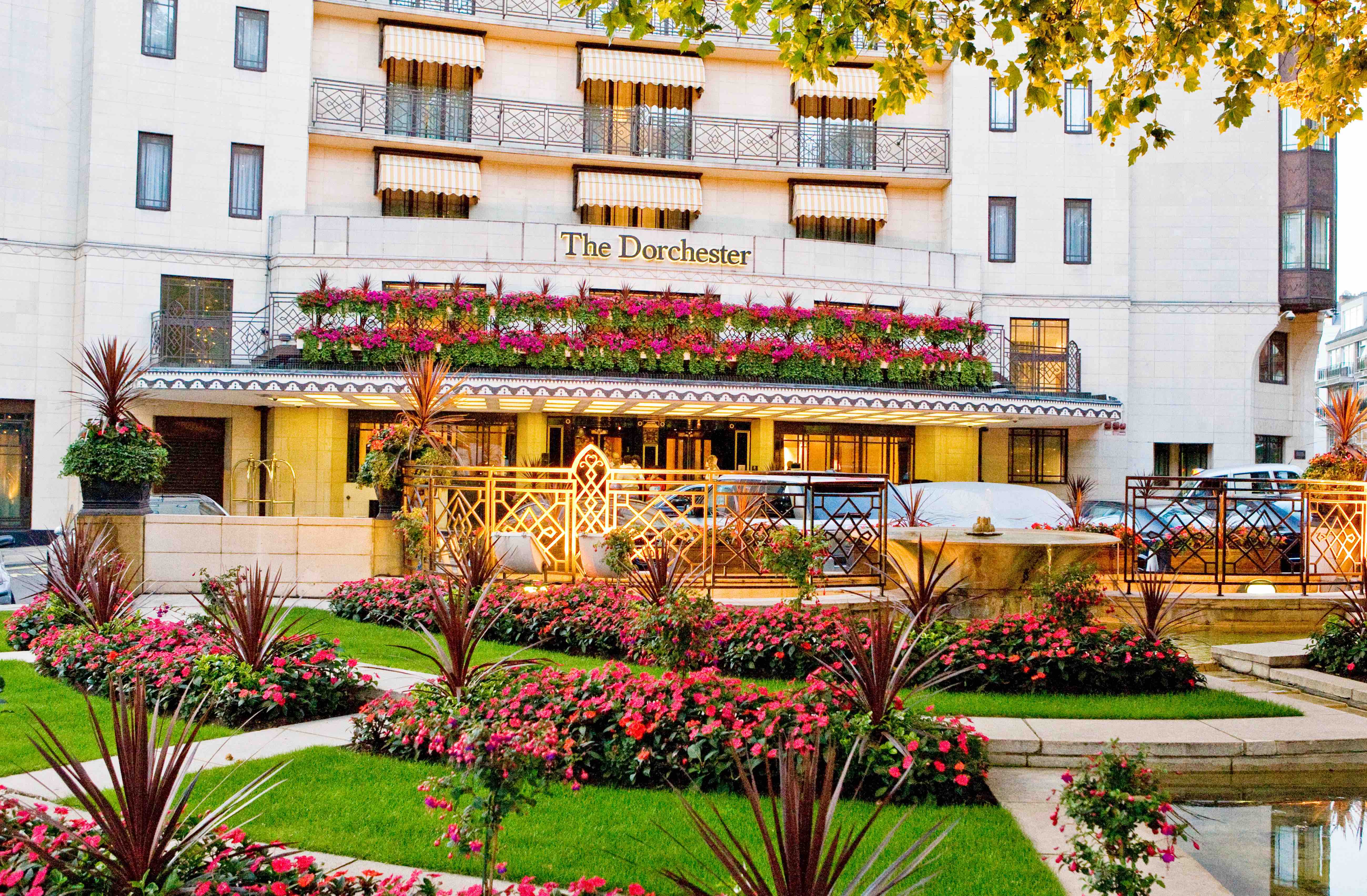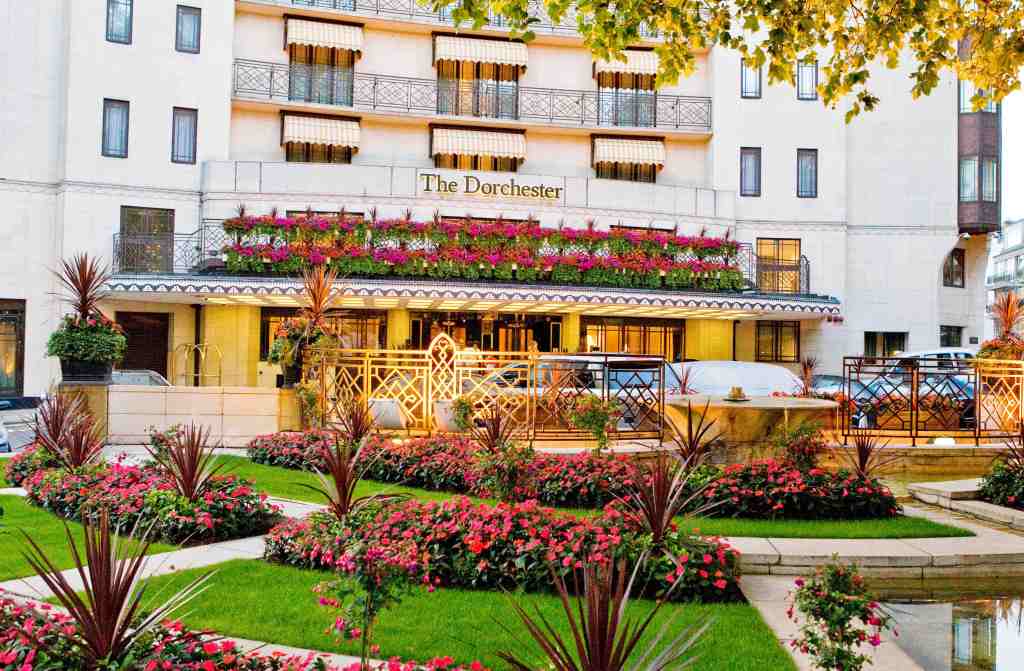 Among the many writers who have passed through the Dorchester's Park Lane entrance, perhaps the one with the most lasting influence was James Bond's creator Ian Fleming. He was a regular visitor to the hotel throughout the 1940s, when he worked in Naval Intelligence, and used to play bridge there, as well as working on what would become Casino Royale. His experience of the murky world of espionage was influenced by his weekly meetings during wartime with Rear Admiral John Godfrey, the model for the spymaster 'M' in the novels. Subsequently, the hotel has been synonymous with film adaptations, often hosting screenwriters working on plots, press conferences and much else besides.
More recently, the author William Boyd, in his own Bond novel Solo, describes Bond waking up at the Dorchester on his 45th birthday and having a breakfast of 'four eggs, scrambled, and half a dozen rashers of unsmoked back bacon, well done, on the side'. Such a morning repast would be catnip to many of the well-heeled guests who continue to flock here, expecting top-notch service, lavish comfort and a vast array of bars and restaurants: one of which, the Vesper Lounge, is named after the duplicitous Vesper Lynd from Casino Royale, and has given its name to the delicious, if lethal, Vesper martini.
It's undeniably a place to embrace sybaritic delights. Following a recent refurbishment, the downstairs Artists' Bar is one of Mayfair's most decadent spots for cocktails and oysters, and the excellent Dorchester Grill showcases chef Tom Booton's innovative cuisine; try the squid bolognese or the splendidly decadent beef fillet Rossini to get a taste of what Ian Fleming – or 007 – might have enjoyed. It's a hotel fit for the most discerning of secret agents, even down to the lavishly equipped marble bathrooms in the palatial suites: traitorous KGB spies are, thankfully, nowhere to be seen.
The Cadogan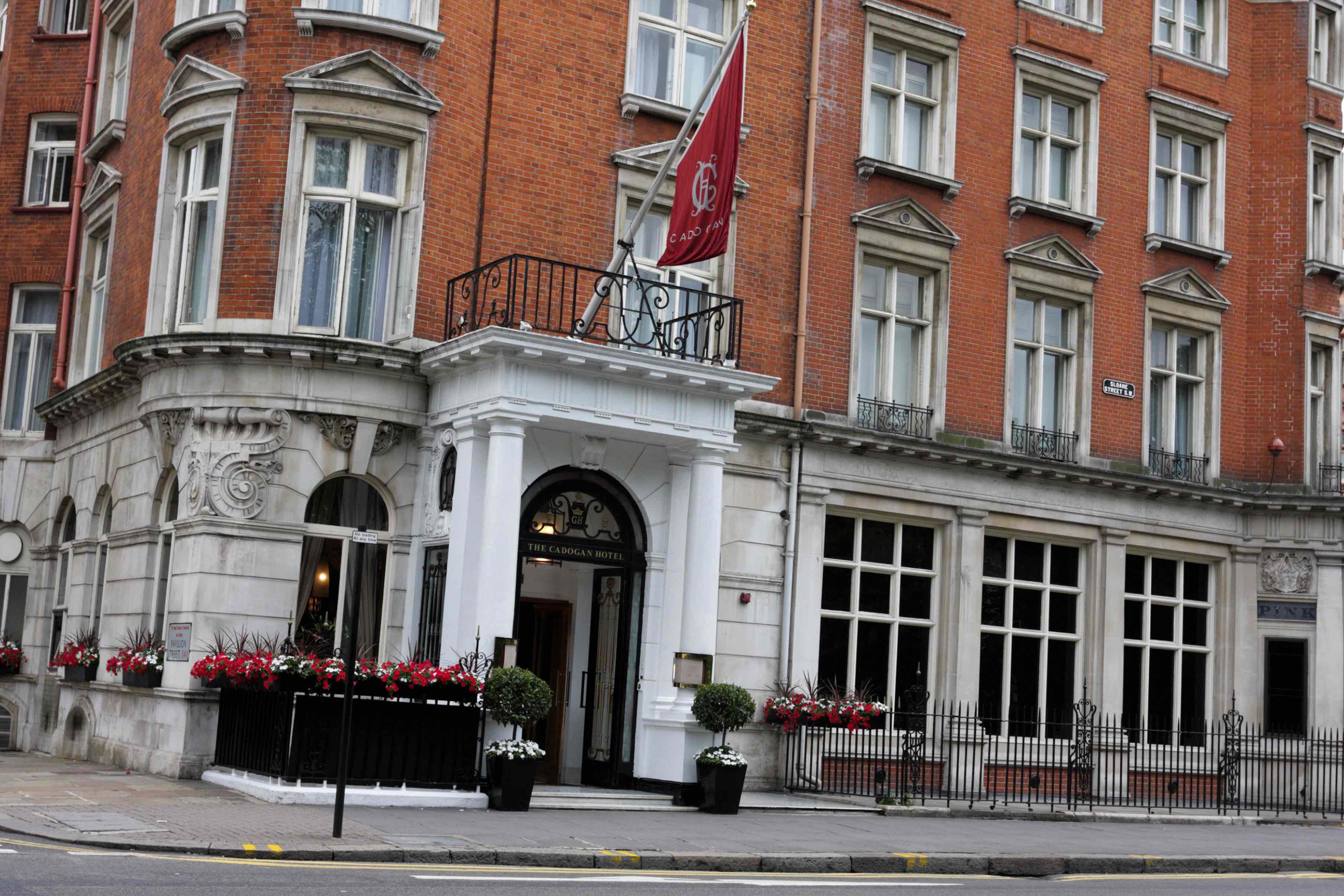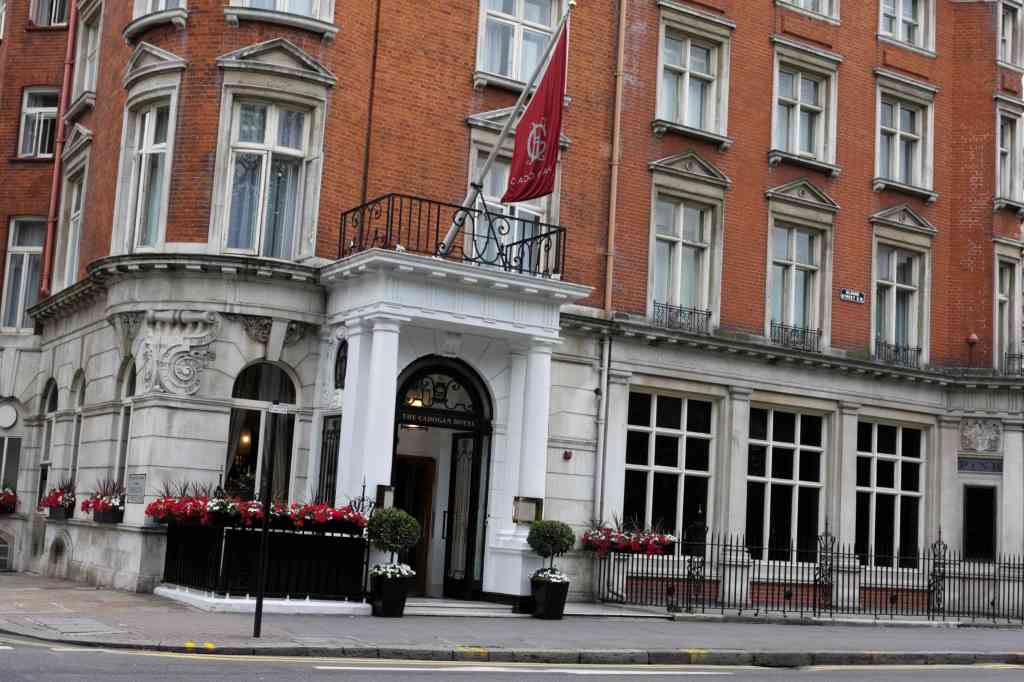 The Cadogan hotel in Chelsea has many claims to fame – or notoriety – but perhaps its greatest is that, on 6 April 1895, it is where the poet, playwright and wit Oscar Wilde was arrested for gross indecency, beginning his precipitous fall from grace. The moment of Wilde's downfall was immortalized by John Betjeman in 'The Arrest of Oscar Wilde at the Cadogan Hotel':
Mr Woilde, we've come for tew take yew
Where felons and criminals dwell:
We must ask yew tew to leave with us quoietly
For this is the Cadogan Hotel
Today, visitors to the Cadogan are still offered every bit as decadent an experience as guests would have enjoyed on Wilde's day. From the proffered glass of Rathfinny English sparkling wine on arrival to the no-comfort-spared rooms and suites, its fin de siècle credentials are impeccably matched to the very finest of contemporary accommodation.
As befits its literary associations, the mini-library in each room is curated by the Chelsea bookshop John Sandoe, and, in a very witty touch, the limestone baths are designed by the high-end company Victoria + Albert; how HRH would have been amused to see her name associated with that of her most notorious subject. And the hotel's suitably high-end restaurant, the LaLee, continues its artistic associations; named after the actress (and friend of Wilde's) Lillie Langtry, a regular habituée of the hotel, it offers modern British food with a theatrical flourish. Try the steak tartare, prepared at your table, and enjoy a display of showmanship that Oscar and Bosie would have relished.
The Savoys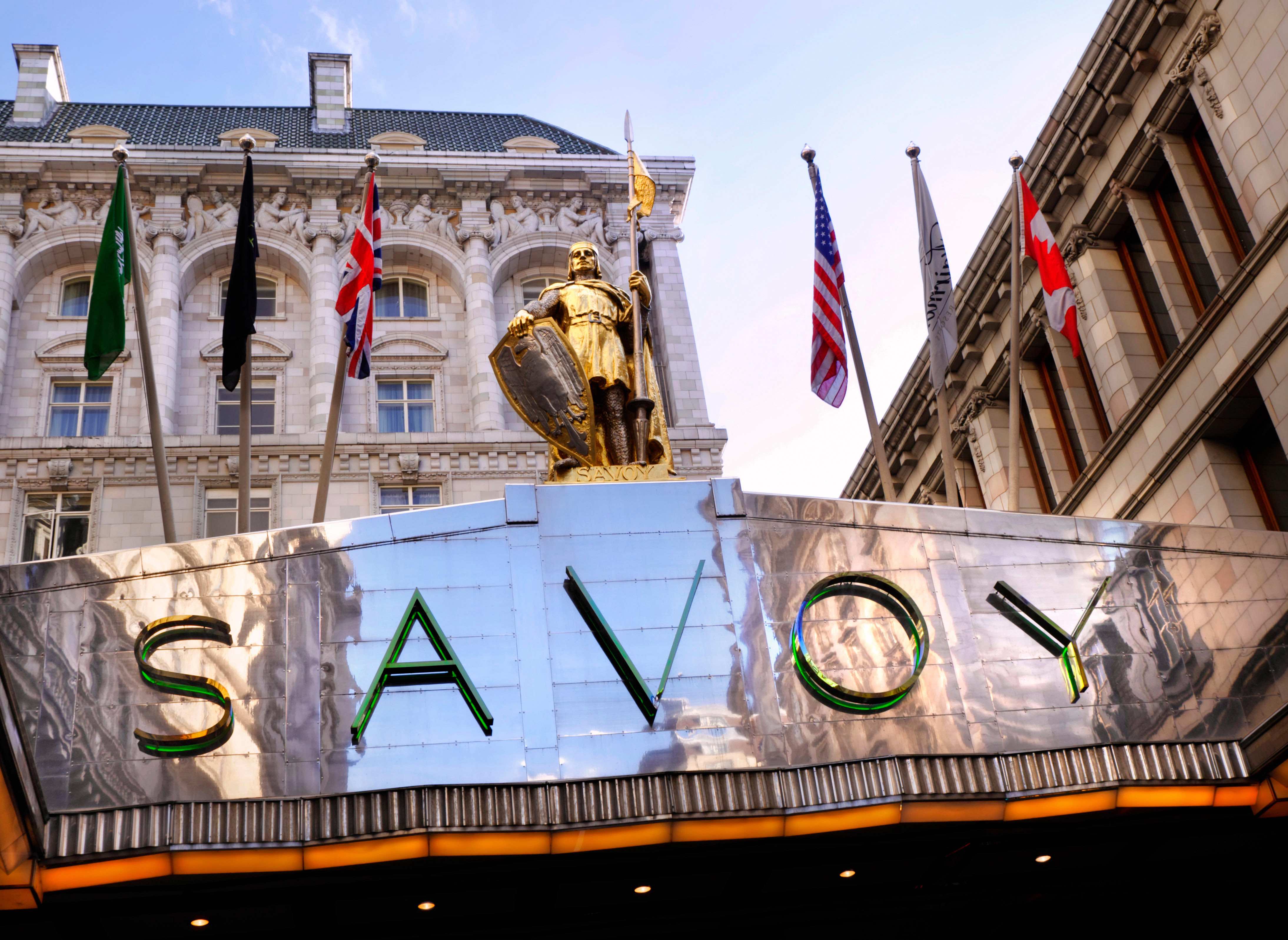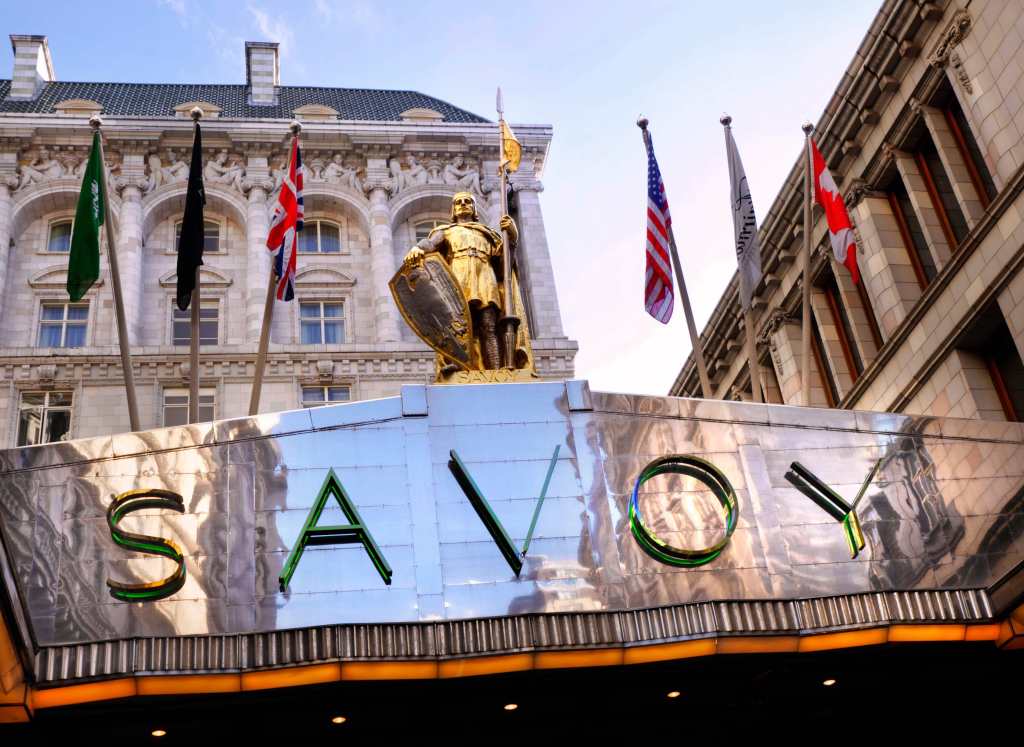 Perhaps no establishment in London has more literary connections than the Savoy. Everyone from Geoffrey Chaucer to William Blake has lived on the site of the Savoy precinct, and the hotel is justly famous for its associations with Gilbert and Sullivan. So proud is it of its historical heritage that it even has its own archivist, Susan Scott, who points out one of its quirkier bookish associations: Winnie the Pooh author AA Milne set his short story 'Birthday Party' at the Savoy Grill. The tale revolved around a timid bank clerk celebrating the birth of his first child by having a slap-up lunch there.
Today, the Grill and the rather splendid River Restaurant have fallen under the aegis of Gordon Ramsay and specialize in serving up fine dining with, in the case of the River Restaurant, a spectacular view. It's not quite as Milne would have known it, but it's a splurge-worthy treat nonetheless; dine on monkfish and prawn curry or gin-cured salmon, sip a glass of ice-cold Sancerre and vanish into a bygone world of higher culinary standards for a few hours. The hotel's nearby American Bar, meanwhile, is a well-known haunt of the well-heeled and tasteful, specializing in cocktails to die for.
Yet what really distinguishes the Savoy from its five-star brethren is the unparalleled level of service. If you're lucky enough to have one of the river-view suites, offering a panorama of everywhere from Big Ben to Canary Wharf, and be waited on by one of the charming, well-drilled butlers – who seem to genuinely adore their job – then you will be cossetted and pampered far beyond the call of duty.
The Langhams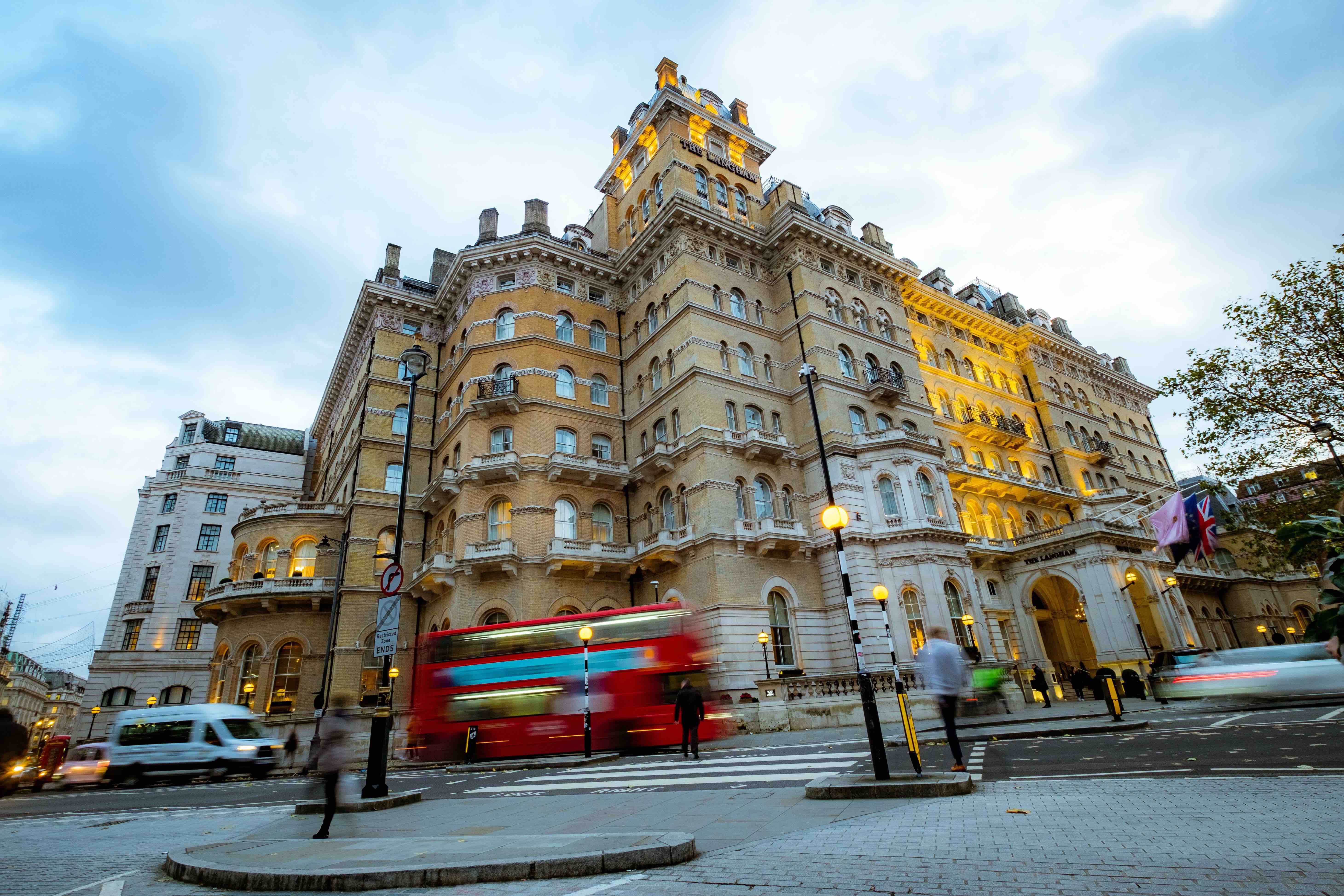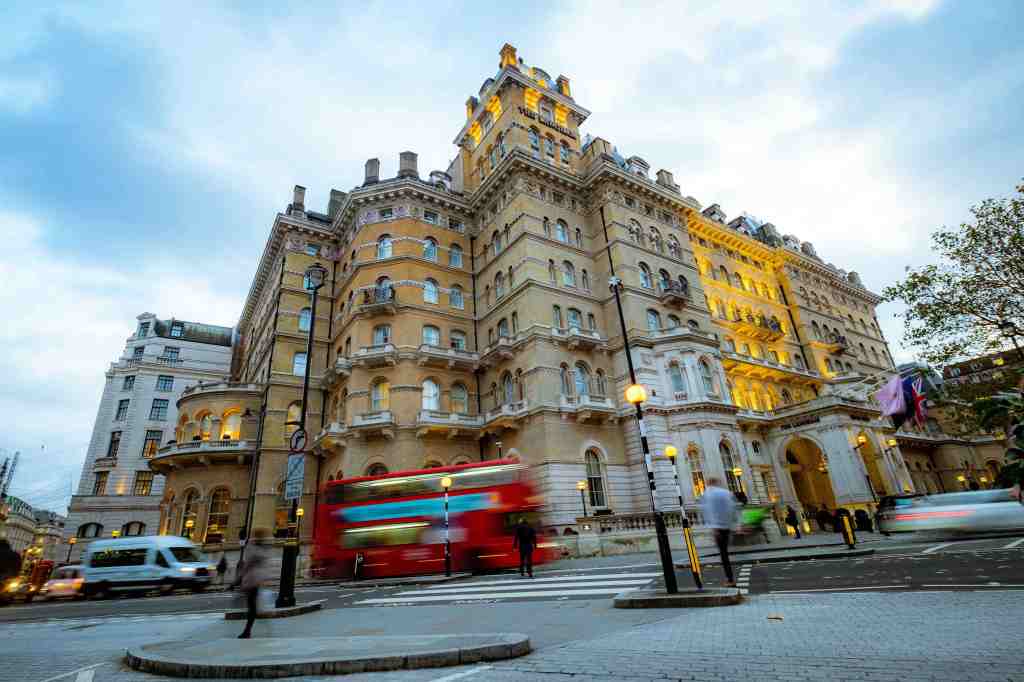 It is appropriate that the Langham – one of the capital's grandest hotels for more than a century – is a stone's throw from Baker Street, because it has connections with both Sir Arthur Conan Doyle and his most famous literary creation, Sherlock Holmes. Doyle was a regular guest of the hotel, and frequently used it as a location in his stories and novels. Its most notable appearance comes in the first Holmes adventure, A Scandal in Bohemia, in which the protagonist Count von Kramm takes residence at the Langham, but it remains a motif throughout the stories. In the 1911 story 'The Disappearance of Lady Frances Carfax', Holmes asks one character his London address, and such is the information-gathering service of the hotel that he can respond 'The Langham hotel will find me'.
These days, as soon as one arrives in the marble-columned entrance hall, all ideas of being found disappear from view very quickly. If one is looking for the literary antecedents, then the hotel's Tower Suite contains both a well-stocked selection of Holmes's adventures and a selection of prints and drawings of his exploits.
Those on the hunt for more corporeal refreshments should head down either to the Club Lounge, where a delectable selection of wines and snacks are available to guests most of the day, or to the justly famous Artesian bar, where a selection of themed cocktails – the best being a sumptuous take on an Old Fashioned, called 'Past' – might be taken in great enough quantities to result in some fogginess to the head the next morning, and it would not take Holmesian powers of intuition to understand why.
Brown's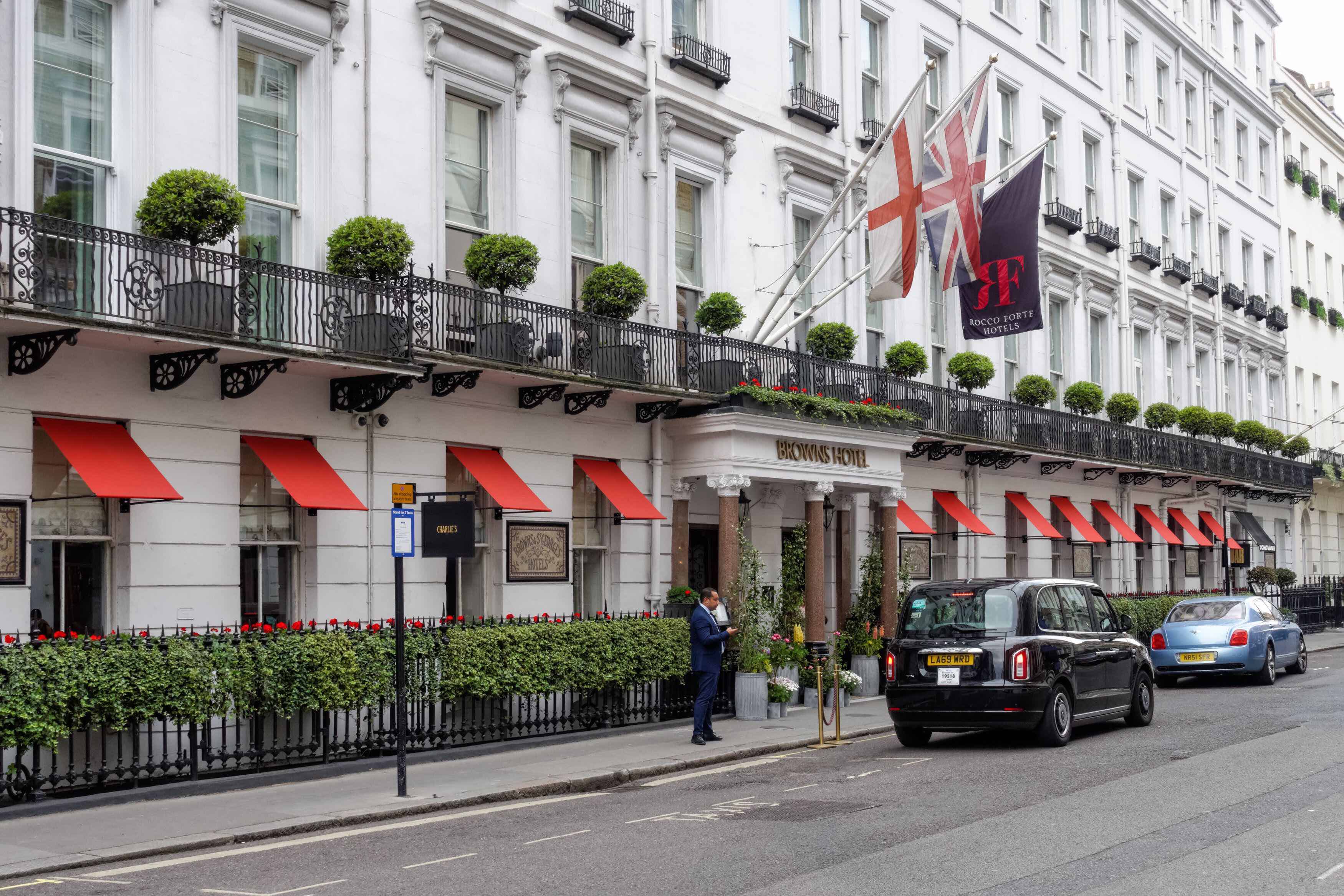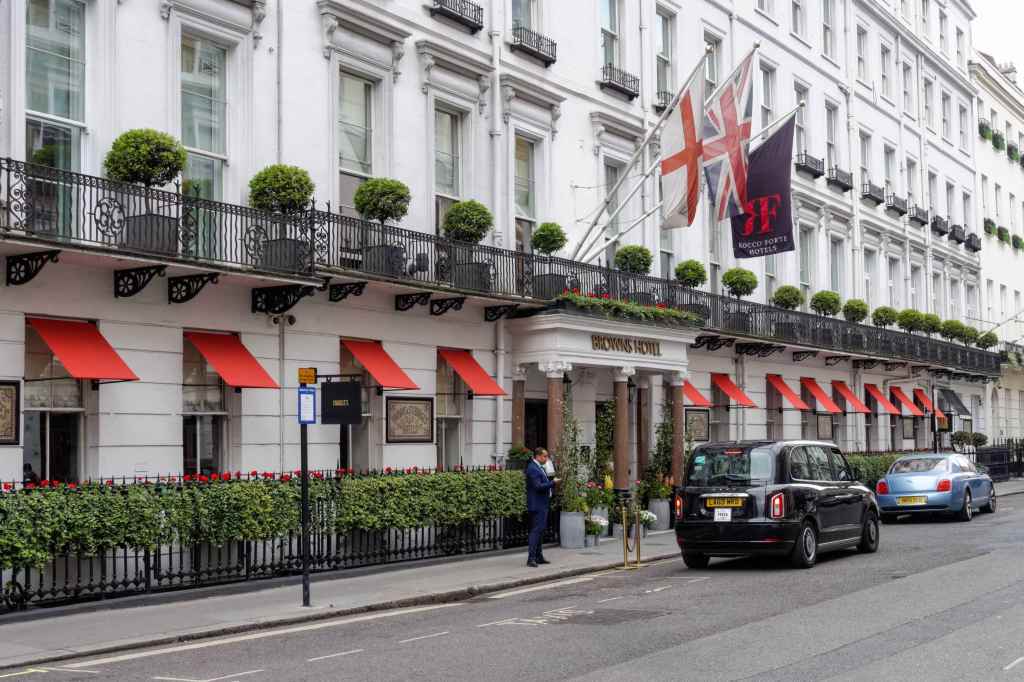 The literary heritage of Mayfair's most famous hotel is a deep and rich one: Agatha Christie used it, thinly disguised, as the model for her eponymous establishment in her 1965 novel At Bertram's Hotel, and everyone from Mark Twain to JRR Tolkien has stayed here at some point. However, the previous resident with the most enduring association with the hotel is undoubtedly Rudyard Kipling, who stayed here on his honeymoon and continued to return regularly over the next four decades. It was here that he wrote The Jungle Book, and in the suitably palatial suite that bears his name, there's even an original letter sent from the hotel.
If Kipling were to visit Brown's today, he would probably respond to it with a mixture of surprise and delight. He'd approve of the wood-panelled Drawing Room, which serves one of the capital's most famous afternoon teas, and would probably thrill to Charlie's restaurant – now with Le Caprice's Jesus Adorno as director of hospitality. Overseen by the Michelin-starred chef Adam Byatt, it offers a variety of modern British dishes including fillet steak, smoked salmon carved tableside and an ever-changing selection of specials served from old-school trolleys. He'd raise a bushy eyebrow at the prices on the wine list – this is Mayfair, after all – and might cough gruffly at some of the more 'colourful' photographs in the iconic Donovan Bar, named after the photographer Terence Donovan.
But one aspect that he would undoubtedly welcome is the hotel's continued adherence to its literary origins. Now owned by Sir Rocco Forte, a noted lover of books, its rooms are festooned with a selection of Everyman classics, meaning that Kipling would have been able to curl up with the complete works of Wodehouse (one of which, 'Lord Emsworth and the Girlfriend', he called the best short story in the English language), and laughed to his heart's content.