Nest western: UK's vulnerable kittiwakes flock to bird hotels | Global development
Cconstructed from galvanized steel and plywood, the latest hotel to open in Lowestoft, Suffolk, boasts a sea view and promises plenty of privacy. Which should suit the guests that flock to the prime seaside spot: black-legged kittiwakes looking for a place to nest.
The kittiwake hotel opened in March, offering artificial nesting sites for the seabirds. Like albatrosses, kittiwakes spend most of their lives at sea, but traditionally nest on cliff ledges between March and July.
Experts say that artificial nesting sites could support the kittiwakes as they face increasingly unpredictable weather because of climate change, limited prey due to the overfishing of sand eels in some areas, and the building of more offshore windfarms.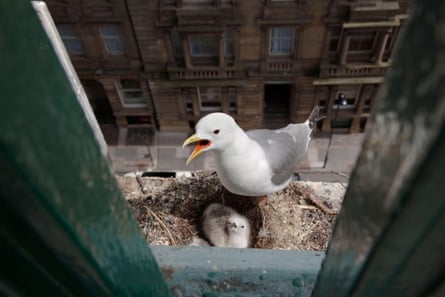 The three structures at the port of Lowestoft site could house up to 430 breeding pairs of black-legged kittiwakes, which are classified as "vulnerable" on the IUCN's red list of threatened species. Globally, kittiwake numbers have dropped by 40% since the 1970s, and there are about 380,000 pairs in the UK, according to the Wildlife Trusts.
The Lowestoft project was commissioned by the energy companies Vattenfall and Scottish Power to mitigate the impact of planned offshore wind farms. The design was led by the consultancy Royal HaskoningDHV in collaboration with Natural England, RSPB, East Suffolk council and the Marine Management Organization.
Dave Tarrant, marine environmental consultant at Royal HaskoningDHV, says the hotels were designed to "hide nicely" behind an existing four-metre-high wall to "allow kittiwakes and port staff to carry on about their business without the risk of disturbing each other" .
Aspect, sunlight, wind direction and ledge size have all been taken into account to make the hotels as inviting as possible, with fencing at the base and an overhanging roof to protect the kittiwakes from predators such as foxes, rats, peregrines and gulls.
Each nest can be accessed from within the structure via a hatch to allow for overnight surveys and ringing.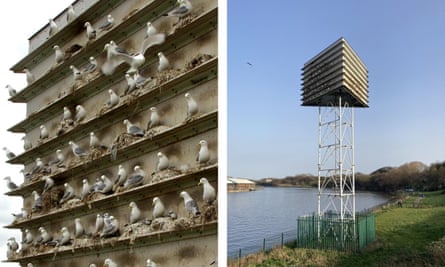 The Lowestoft hotel is not the first in the UK – the first high-rise kittiwake tower was built in 1998 at Gateshead, Tyne and Wear, to offset any displacement of birds during the reconstruction of the Baltic Center for Contemporary Art. A few years later, the tower was relocated to a council-owned site called Saltmeadows along the River Tyne.
A second tower, billed as a "kittiwakery", has just been installed in Gateshead by the German energy company RWE. The designer, Nathalie Stevenson, spent three years studying 91 urban and coastal colonies, including ones on Middleton Island in Alaska, as well as in France and Norway, to develop a prototype.
Stevenson, director of the environmental renewables consultancy Shoney Wind, says coastal kittiwakes tend to arrive en masse in March, while in urban locations, one bold, solitary bird sometimes arrives in February, possibly to secure the best nesting site, before others turn up.
"The ones that arrive first are in the sweet spot; if you study their breeding success, they're in the penthouse suite versus the ones that arrive later and don't do as well in the budget hotel," says Stevenson.
The choice of nesting sites on coastal cliffs is relatively limited in terms of aspect and exposure, whereas urban environments offer a greater variety of sites for nests, with more stable temperatures.
"Given that numbers in urban areas are growing quite quickly, it's likely that this [trend for more kittiwake hotels] will continue. One of the very few options we have is to provide alternative accommodation," says Stevenson, who is developing more hotels with marine ecologists in Norway.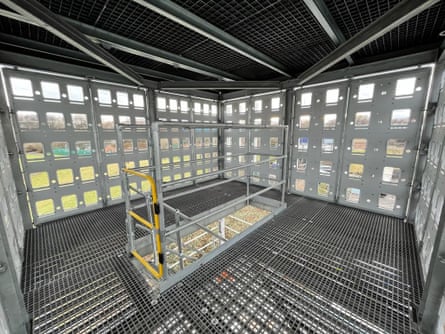 As well as providing a safe haven for the kittiwakes, the developers of the hotel in Lowestoft are also hoping it will keep some of the birds out of Lowestoft town, where they are not universally loved by the residents. Vattenfall is funding a five-year annual grant of £50,000 so that Lowestoft Kittiwake Partnership can provide advice and support to local businesses on dealing with the birds and money for clean-up operations.
Dr Helen F Wilson studies how kittiwakes are moving into urban areas in Lowestoft, Scarborough and along the River Tyne. In Newcastle, the world's most inland population of breeding kittiwakes is "bucking the trend" and thriving, says Wilson, associate professor in human geography at Durham University and chair of the Tyne Kittiwake Partnership.
But when people see lots of loud and messy seabirds, it can be difficult to explain that they are vulnerable, he says. "When we think about climate change and extinction, we think about absence and disappearance, but in this context that's not what it is," said Wilson.
Tower design is gradually evolving as the success or failure of various constructions becomes clear. With space for 200 breeding pairs, Stevenson's tower, at 12.5 meters high, has an internal staircase so that birds can easily be ringed by ornithologists.
"If we could tag these birds, we'd get more information," says Stevenson, who designed his tower to be modular, relocatable and recyclable. Another section can be added on top, and configurations of nest boxes can be changed with a simple Allen key to optimize the design.
"If kittiwakes keep bucking the trend in urban environments," she says, "we're going to need more kittiwakes hotels or artificial nesting structures, almost like a refuge for kittiwakes."
Find more ages of extinction coverage here, and follow biodiversity reporters Phoebe Weston and Patrick Greenfield on Twitter for all the latest news and features