Online Event Booking Is Here
Save Time and Close More Group Business with Online Event Booking
Business knocking on your door is a cause for celebration. But with the proliferation of digital means to receive requests for proposals (RFPs), do we dare say it's too much of a good thing?
The sheer volume of RFPs is making it increasingly difficult for hoteliers to spend the time and energy needed to create thoughtful proposals for every request. This leaves hoteliers with tough choices; they can either reduce the quality of proposals to get them out the door quicker or leave business on the table because they don't have enough time to get through them all.
Neither scenario makes for good business.
Despite the proliferation of RFPs, many hotels are finding that their function space is still vastly underutilized.
As such, we recommend that hoteliers take a step back and ask a few foundational questions about their proposal process.
Does each request truly require a full RFP?
Could too many proposals result in a falsely low conversion rate?
Could some requests be fulfilled equally well, and even faster, through other means?
Alternatives to the RFP
An alternative to an RFP for small groups is allowing meeting planners to directly book their events directly through your website. By doing so, you're making it easier for meeting planners to do business with you through a streamlined, self-service model with the added instant gratification of securing their event. And meeting planners are on the forefront of incorporating more technology into their activities, with Skift reporting 78% are using more technology today than pre-pandemic.
There is tremendous variation in the types of events and group businesses that hotels receive inquiries or RFPs for today. For example, large groups of 200 or more who book a year out can be highly profitable, complex, and warrant the time and high overhead required of a formal RFP process. Smaller groups, perhaps of 50 or fewer guests with a week's lead time, aren't as complicated and don't justify the resources required for an RFP. Even so, smaller requests cannot be ignored because their revenue potential, when viewed in aggregate, is tremendous.
Considering inbound RFPs along with a scale of complexity and booking window (Figure 1) can help hoteliers identify the appropriate response type. Even if most requests still require detailed RFP responses, hoteliers may well find a substantial workload that can either be automated (online bookings) or vastly reduced (request for books). The result is more bandwidth for your sales team to focus their attention on larger opportunities.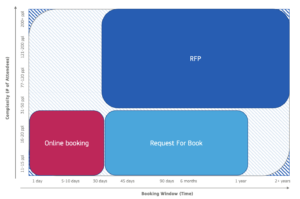 Figure 1. RFP Response Type as a Function of Complexity and Booking Window
Online Booking Channels
Let's talk about online event booking channels, such as Cvent, MeetingPackage, Groups360, Venue Directory, SpeedRFP, Meetago, HotelPlanner, and others. Much like online travel agencies (OTAs) for individual travelers, these are a boon for busy meeting planners. With a few keystrokes, planners can quickly find venues that meet their specifications and complete one eRFP form that shoots to all available venues, regardless if the venue is a good fit or not. Like OTAs, online event booking channels charge a fee for the cost of the additional leads. Love it or hate it, hoteliers must develop strategies to maximize the value of online booking channels now and in the future.
Today, these online event booking channels are connecting directly to hotel inventory through hotel managed exposure rules. This connectivity will further the digital transformation from RFP to online booking that is occurring today on hotel websites on a much larger scale.
A strategy to consider for online booking channels: Events that initially come in through these higher-cost channels can be converted into repeat business that books directly through your hotel, thereby reducing costs and maximizing revenue in the long run.
In addition, you should consider a comprehensive strategy that includes both:
A direct channel: such as a meeting and event booking engine for your website
Indirect channels: such as Cvent, Venue Directory and MeetingPackage. The most channels you connect to, the more exposure you will get.
The key is to have a laser focus on an exposure strategy so that smaller meetings can be booked directly online. The upside to a good exposure strategy will be that the under-utilized function space has a better chance of generating revenue through being exposed to more potential buyers.
To do this, carefully outline what rooms and what packages (menus and items) will be exposed to online channels. Also outline what your exposure window will be. For example, some properties may opt to expose rooms from 1-60 days out, while some may choose 1-90 days.
The right timeline for your property depends on the threshold of attendee number and booking window that you determine requires a time-intensive RFP.
Implement Your Strategy
Once you determine what should be covered through online booking or through a request for a book, you can use online tools such as MeetingBroker, to funnel requests accordingly.
Some points to consider:
An RFP asks for rates and availability, typically including custom packages. Negotiation is expected, so a high-touch approach is best. No direct booking for these.
When requesting availability, the meeting planner can see rates and room types online and is just asking if your hotel has availability on certain dates. With little or no negotiation expected, fulfilling these requests can be fast and easy.
Over 75% of planners surveyed by Skift reported having to plan events with shorter lead times than in 2019. By empowering meeting planners to book small board meetings or workshops directly, you can not only quickly book your available space, but earn the trust of a future partner for larger events as well.
Regardless which digital route your group and event business come through – directly through your website or an online event booking channel—make sure the content you're offering about your hotel is thorough, easy to find, and completely swoon-worthy. This includes photos of venue spaces and past events, room diagrams and capacities, 360-degree virtual tours, FAQs, local area maps, and a listing of nearby attractions and restaurants. The more information you can provide upfront, the easier you have made the meeting planner's job and the closer to "Yes, we want to book!" your hotel can be positioned.
Groups and events are important revenue drivers for hotels, and digital channels deliver essential leads for them. Executing a carefully crafted strategy with the right online tools for each type of business now can help optimize ROI and generate delighted, repeat customers for years to come.
Be sure to visit our guide to the New World of Sales & Catering for an all-encompassing rundown of the latest trends, best practices, and interviews from industry leaders.
For more information about how Amadeus can help you grow your group business, learn more about Meeting & Event Distribution and contact our sales team today.
*Updated April 2023