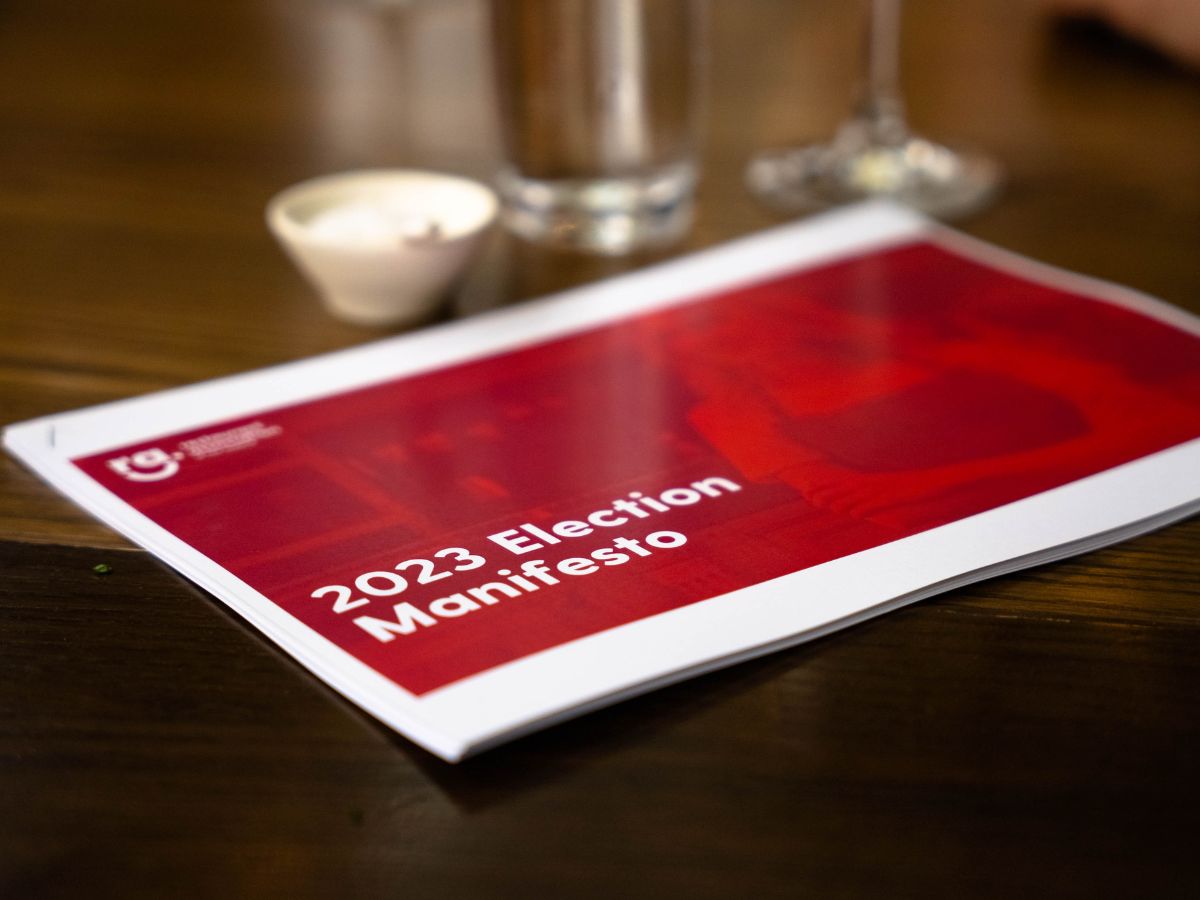 RANZ releases election year Manifesto for $14bn industry –
The Restaurant Association is calling on the next Government to work collaboratively to create a concise pathway for rebuilding and repositioning the sector for the future.
"The hospitality industry contributes more than $14 billion to the economy, making it one of New Zealand's largest industries. Despite being an enduring powerhouse of the New Zealand economy, policies made for the sector, in particular for hospitality, are fragmented, impractical and often devoid of the everyday realities of operations," said Restaurant Association CEO Marisa Bidois.
Last week the association invited six National Party MPs to visit three central Auckland restaurants to see and hear first hand the key difficulties facing the sector, as part of their initiative to inform the Government through collaboration. Called HospoHop, the association's initiative also includes inviting MPs from other political parties to such events during the build up to the October election.
Invited MPs were: Hon Michael Whitehouse, list MP for Dunedin; Maureen Pugh, List MP for Tasman – West Coast, Simeon Brown, MP for Pakuranga, Hon David Bennett, List MP for Hamilton, Andrew Bayly, MP for Port Waikato and the Hon Paul Goldsmith, List MP for Epsom.
The event was hosted by Marisa Bidois, Chand Sahrawat and Mark Woodward.
During the tour, which commenced at Viaduct Harbour's Baduzzi, moved to The Conservatory and finished at Feriza's, the MPs were able to hear first hand the impact Government policies had on the industry.
Key topics included, immigration, workplace relations and safety, education and training, civil defense and small business economics. According to Paul Goldsmith, National would look at reintroducing the 90 day trial periods and reviewing current immigration settings.
"This is a sector that has been badly hit by disruptive, excessive legislation and incurred Government induced costs."
Skills shortage
Skills shortages continued to plague the industry. While 2022 employee numbers reversed the decline seen in 2021 to reach 135 thousand employees, at 0.37 per cent this is the lowest growth level in more than 10 years.
Although unemployment rates have reached record lows, the hospitality industry's staffing challenges have peaked. The constraints of operating with a deficit of workers are often referred to by operators as their biggest ongoing challenge.
"This means investing in hospitality apprenticeships and further training fit for purpose whilst also refining our immigration policy needs," continued Bidois.
"A one size fits all approach to immigration settings does not meet the unique needs of our sector which needs a clear roadmap from the government pertaining to short, medium and long-term immigration plans that are responsive to our sector's unique needs and reflective of the realities of operating a hospitality business.
"We also need to see increased training for New Zealanders to meet the skills shortage needs, both in terms of availability and quality."

Hospitality and Tourism
"We are also calling on the government for greater recognition and better oversight from our tourism minister and the Ministry for Business, Innovation and Employment for the significant role that hospitality plays in the tourist experience.
"The current approach to Hospitality and Tourism has not adequately addressed the needs of our industry in recent years. While they are inherently linked, Hospitality is often lost by the Government in conversations about the Tourism industry.
"We believe that seeing a more concentrated focus on Hospitality within Government, either through a ministerial portfolio or a specialized unit with MBIE, would be a game changer for our sector. We would like to see something as simple as the name of the portfolio being extended to Hospitality and Tourism as a starting point."
Workplace Relations & Safety
Resourcing and capacity has meant the Government often lacks proactive measures to get ahead of worker relations and safety issues.
"A key priority for our industry is to address perception issues by lifting employment standards and tackling exploitative working conditions. While we welcome efforts to increase transparency and awareness of employment standards within the hospitality and tourism sectors – we believe that the government can use the sector as a collective force by collaborating and supporting industry-led-initiatives.
"We would like to see the Government invest in and expand the RA's industry accreditation platform, HospoCred, in order to create a clearer picture for consumers, businesses and current and prospective employees about what it means to be a responsible and transparent hospitality business. We have started this process with the recognition of Hospocred within the Hospitality Accord as part of the Better Work Plan," said Bidois
Regulatory environment
Within the hospitality sector, employers are predominantly small business owner-operators, who are intimately involved in the day-to-day running of their business, which means their access to time and resources is often limited.
While regulatory change is inevitable, the sheer number and scale of enacted and proposed legislative changes to New Zealand's employment, industrial relations, and immigration frameworks in the last 24 months, particularly with the Fair Pay Agreements, and Immigration Reset, has severely impacted our confidence as a sector. This coupled with all of the processes and changes businesses had to manage as part of the pandemic has a difficult road to navigate for businesses.
Ensuring the regulatory environment is conducive to productivity and business growth while still prioritizing the well-being of employees and consumers remain a top priority.
Minister Requested
A final change to the Restaurant Association is keen to support would be the appointment of a Hospitality minister, such as can be found in some other countries and territories (including NSW in Australia, which has a Minister for Hospitality and Racing). In the UK, there is a business minister with responsibility for sectors including hospitality, nightclubs and weddings.
If not a minister, a dedicated section in MBIE would be welcome, Bidois said, or it could be as simple as changing the title 'Tourism Minister' to 'Tourism and Hospitality Minister'.
"When you are in an industry and invested in it, it's nice for business to hear their sector is part of the discussion.
"Although we sit alongside tourism and work happily with our tourism partners, and we do have similarities, there are quite a few differences as well."
Hospitality now comes under the remit of the new Tourism Minister Peeni Herare, after Stuart Nash was reshuffled out of the portfolio in early February. Henare comes into the role just as the Better Work Action Plan, the first phase of the Tourism Industry Transformation Plan, drops. The Better Work Action Plan has been informed in part by an AUT survey showing high levels of bullying and harassment have not been stamped out many years after concerns were first raised.
The hospitality industry has continued to grow achieving record sales of over $14 billion in the year ending December 2022 representing a sales increase of 14.5 per cent over the previous year.