Shared rooms, rancid food, no clothes: new report lays bare shocking conditions of those seeking refuge in UK | Immigration and asylum
Asylum seekers have been forced to live for a year in windowless rooms smaller than prison cells, served food so directly it is blamed for causing diabetes, and have spent days in their underwear because they only have one change of clothes.
These are the shocking conditions laid bare this weekend in a comprehensive report from the charity Migrant Voice, which took testimony from 170 asylum seekers staying in London hotels that are supposed to serve as short-term accommodation.
The charity has chronicled repeated accounts of overcrowding, "filthy rooms", abusive and obstructive staff and "dangerously erratic" healthcare.
The immigration minister, Robert Jenrick, recently told MPs that these hotels were "luxurious".
More than 50,000 asylum seekers are being housed in nearly 400 hotels at a cost of more than £6m a day, with the Home Office struggling to reduce a record backlog of cases.
Although the research gives only a snapshot of conditions inside this huge asylum hotel network, it is one of the most comprehensive insights available into the experiences of its residents.
Of the people interviewed – most of whom were from Afghanistan, Iraq and Iran – about a third had been staying in hotels for more than a year.
"When we started looking into the issues facing asylum seekers in Home Office hotels, we weren't sure what to expect," said Nazek Ramadan, director of Migrant Voice. "But we found a system which left people despondent and suicidal. Many of those we met were denied even the most basic of facilities and left isolated in cramped and overcrowded rooms."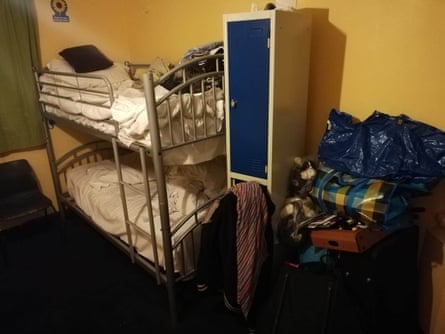 Some people reported being crammed into rooms with more than 10 strangers. One described how they had been forced to live for 12 months in a room with no windows that measured 2 meters by 2 meters. By comparison, an Inspectorate of Prisons report suggests a typical cell holding a prisoner might be approximately 5.5 sq meters.
"His isolation and hopelessness and generally dehumanized situation had a devastating impact on his mental health, leading to self-harming and two suicide attempts," the Migrant Voice report, which is published on Monday, says.
One of the most common complaints among the hotel residents interviewed concerned the food, with servings routinely described as "almost inedible" or smelling "rancid" and being out of date. One asylum seeker said he had developed diabetes – which can be caused by junk food diets – because of the meals he was offered.
Such was his "steep decline" that he prompted a doctor to visit the hotel to assess the condition and find out why his patient's health had deteriorated so badly, the report says.
Another case involved a woman who said she had developed diabetes during pregnancy but had continued to be offered high-carbohydrate foods such as bread and rice, which could worsen her condition. Unable to afford healthier alternatives, she occasionally chooses to eat nothing.
Another common complaint was a lack of adequate toilet and washing facilities, with some people left without clothes for days as they waited for the ones they had with them to be cleaned. One asylum seeker told researchers how 24 people had shared a communal toilet.
Among the most shocking points raised in the report is the alleged abuse from staff at the hotels, which are run on behalf of the Home Office by private companies who have enjoyed increased profits on the back of housing asylum seekers.
"Asylum seekers have reported verbal abuse, harassment and racist comments directed at them from staff in some hotels, including threats to send them to Rwanda," said the report. The comments about Rwanda refer to the government's plans to send asylum seekers to the African country, although its intentions have been thwarted by legal challenges, with the latest scheduled for this week.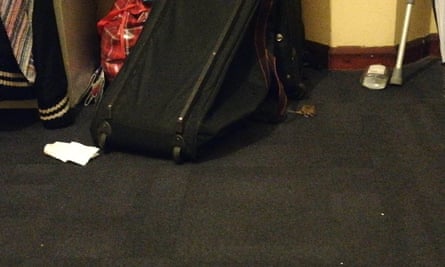 Other concerns over staff behavior were also shared with researchers. "Uncooperative, and at times active obstructive behavior by staff in hotels were reported by asylum seekers who needed support in obtaining medical treatment," says the report. On other occasions, asylum seekers said they had been penalized arbitrarily by staff who, for example, had told them they were not allowed to chew gum, or could only leave their hotel for a limited time.
"For some respondents, not obeying these arbitrary rules, or complaining about their living conditions, or sometimes even asking for help, resulted in receiving made-up threats of being 'sent to Rwanda'," the report said.
Charities said the findings exposed the lack of a reliable complaints system. Rhetta Moran from Refugee and Asylum Participatory Action Research (Rapar), said: "People are not only dissuaded from registering complaints, they are also threatened that notes will be put on to their asylum applications with the Home Office if they register complaints."
Misgivings over "hit and miss" levels of healthcare were also raised, with one asylum seeker saying that she had lost her child because a doctor had not realized she was pregnant.
Other claims highlighted how the Home Office often made no contact with asylum seekers after they had arrived, with some saying they were still waiting for the department to get in touch more than a year later. Out of 109 asylum seekers who responded to a Migrant Voice survey, only five said they had received communications from the Home Office about their next steps.
The revelations come as the number of asylum seekers waiting for a decision on their case continues to soar to record levels, with about 166,000 people now in the backlog.
There are further damaging Home Office allegations involving reports that staff seized the belongings of asylum seekers. "We are aware of a number who have lost their possessions at the hands of the Home Office," said the report.
One case involved a man who said he had lost everything after arriving at the Manston detention center in Kent. "His belongings were never returned to him. He had original documents proving his life and identity before arriving to the UK, his smartphone with the telephone numbers of all the people he knew, his watch, his change of clothing. He was never offered any compensation. The loss has left him traumatized," said the report.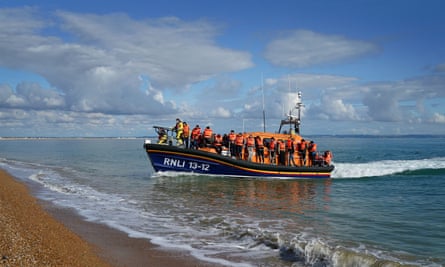 Another problem, according to those interviewed, is the inability to afford basic necessities. Asylum seekers in hotels that provide meals receive £9.10 a week, a sum that must cover everything from travel and toiletries to clothing and a phone. "We saw children who couldn't go to school because they didn't have shoes, and their parents had no way to afford them," said Ramadan.
The low weekly allowance means attending a doctor's appointment, for instance, could be too expensive. A one-hour bus fare in London is £1.75, about a fifth of the weekly sum.
Furthermore, the Home Office allowance comes on a prepaid cash card, and some asylum seekers said they had waited months before receiving it, meaning they could not afford to eat and had to rely on food banks and charities.
One asylum seeker interviewed said he was still wearing the same clothes he had worn when crossing the Channel by dinghy 20 days earlier.
The report recommends allowing as many asylum seekers to work as possible and speeding up the processing of asylum claims.
"We need a system that treats them as human beings and is compatible with the values ​​we would hope to see in this country," said Ramadan.
A Home Office spokesperson said: "We take the safety and welfare of those in our care extremely seriously. We have safeguarding procedures to ensure those in hotels are as safe and supported as possible, ensuring that accusations are investigated.
"We expect high standards from all of our providers, and any asylum seekers who have problems with their accommodation can contact Migrant Help, 24/7, every day of the year."
The spokesperson added that because no hotels were named in the report, the Home Office could not look into specific claims.