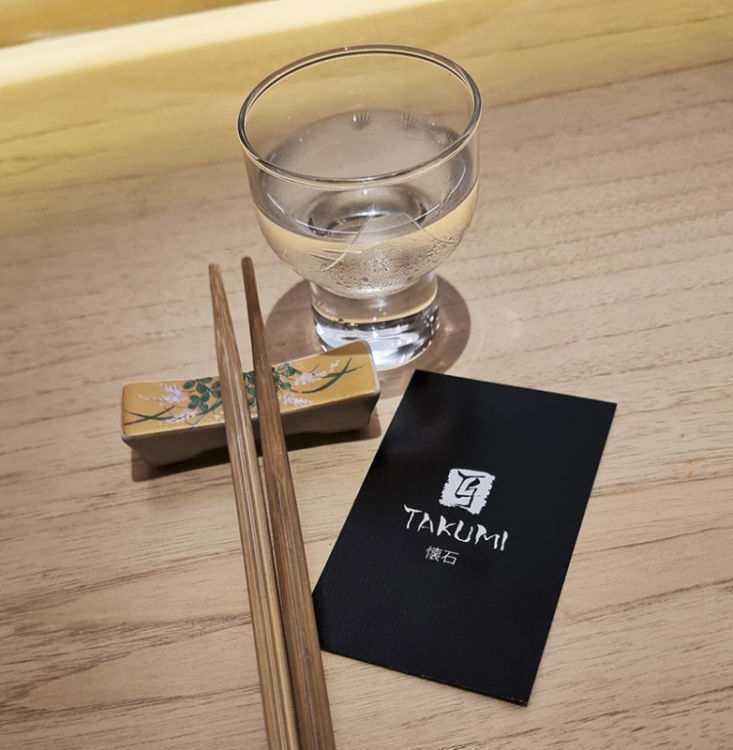 TAKUMI A NEW JAPANESE DINING EXPERIENCE.
Japanese dining just hit a new, higher level in Bali with the opening of Takumi on Jalan Petitenget, situated right next to Ling Lings.
We arrived and were directed to the light colored timber dining bar or counter, sitting on elegant dining chairs, and now overseeing the action. Osaka born Chef Daijiro [pictured above] is in front of us smiling. He overseas a multitude of cooks and assistants, who are busy hand-making dishes right in front of our eyes. The main kitchen, which services the counter is out the back. Floor staff are attentive and discrete, hovering back and forth, making sure everything is comfortable. There are also separate tables and booths for guests requiring more exclusion.
Besides the handcrafted Japanese set menu (pictured above), the decor and finishing of Takumi places it right among the best restaurants in the area.
But back to the menu. There are two choices right now. The full set menu, consisting of nine separate dishes, and also a six piece version. There is no a la carte. The set menu is seasonally based and will change periodically. The menu and dining concept follow Shun and Chisan Chisha principals, which basically means eating foods at their seasonal freshest and best. Everything is super fresh at Takumi.
There are plenty of tasty morsels on the menu and, as you would expect from a Japanese eatery, they are mainly from the sea, but some come from the farm―succulent beef and chicken cooked in a variety of ways and forms, and perfectly cooked vegetables that appear in such a simple way on the plate that you have to smile. They are also simply delicious. The Japanese have perfected stylish and healthy dining over centuries and here at Takumi those centuries of experience would appear to be rolled right into every single dish. If you are seated at the counter those dishes, which roll out every few moments, as I said above, are mostly created right before your eyes.
Takumi is an exceptional dining experience with Mr Daijiro at the helm.
Upstairs henceforth, is the bar and wow, what a bar. Plush interiors and Japanese whiskeys are de rigor and it too is up there with the fanciest bars in town. Not overly large, but intimate and uber-stylish.
Points
9 course set menu 1.2 million.
6 courses 900k.
The menu changes seasonally.
Produce imported from Japan.
And also sourced locally.
A real hands on experience.
Take it slowly.
An excellent selection of sake.
The ultimate Japanese whiskey bar upstairs.
www.takumibali.com
Arigatō