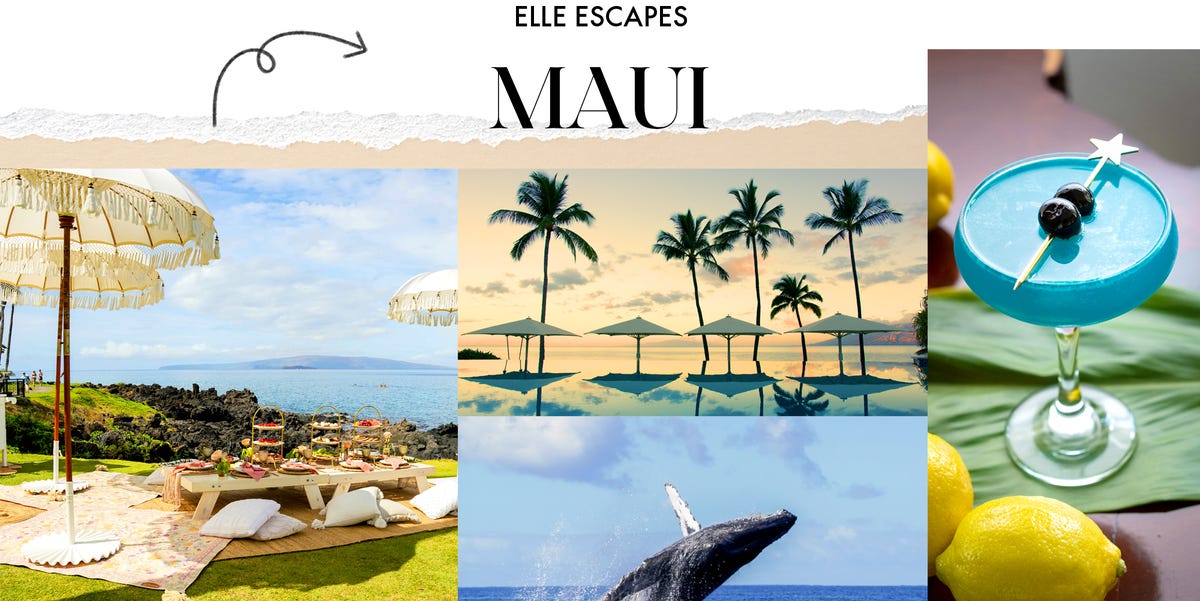 The Best Beaches, Hotels, and Restaurants
Close your eyes. Now imagine yourself sipping a piña colada on the beach as the waves crash and fall back. Crash, and fall right back. It's the perfect day with the sun shining, and as you rush into the water, you can't help but realize it's a surreal shade of bright blue—something the Atlantic Ocean could never deliver. You, my friend, are in Hawaii. While each of its islands has something to offer, if you're looking for a balance of pure serenity mixed with activities, as well as a place that also counts Oprah as a resident, we've got to talk Maui. After all, the second largest of the islands is most famous for its immaculate beaches, caves and coves that offer opportunities to explore at every turn. Whether you're looking for a romantic getaway or are hoping to have a kid-friendly vacation, Maui is the answer. Below, here's everything to see and do on the most-treasured island.
What to See
---
Bike Haleakala
Calling all daredevils! Let us paint a picture: It's 6 AM, and you've been dropped off at the 10,000-plus-foot-high Haleakalā summit to watch the sunset from the crater's edge. From there, you'll bike down another 20ish miles to base, where you are again greeted by a sea breeze. Not for the faint of heart, this is the ultimate expedition to see Maui's natural beauty and wonders, with a bit of a challenge. You can rent bikes from Bike Maui and opt for a self-guided or group tour (shout-out to Cruiser Phil!). Bring layers of clothes, closed-toe shoes, water, snacks, alertness and a sense of adventure.
Road to Hana
If biking isn't your thing, but you still want to see the real Maui, can we suggest the road to Hana? It's best to leave before the sun is up (sorry about that, again!) and drive down some very curvy and windy roads with views you can't fathom are real. You'll get breathtaking coastline vistas, rainforests, lagoons, and trees so tall the weather will change. The biggest draw is the black sand beach called Pa'iloa, which offers one of the most stunning natural wonders that you are welcome to swim in. Also, those who are familiar with the Road to Hana know that it leads to the seven sacred pools, featuring lush greenery, waterfalls, and wonders the metaverse can only dream of. And although the name mentions seven, there are actually many more pools for climbing and swimming around in during your visit. This will take up a whole day, but it's well worth it.
Ali'i Kula Lavender
Bored of countless hours at the pool or beach and craving a change of scenery? Head to Maui's countryside. It's a cottagecore dream: over 50,000 lavender plants that you can stroll aimlessly through (or take selfies in!), as well as small shops, chicken coops, and ocean views galore. Lavender isn't native to Maui, but because of the island's climate, the lavender on the farm blooms year-round in cool, dry temperatures.
Where to Eat
---
Ko Restaurant
It was named Restaurant of the Year at the ʻAipono Awards (devoted to noteworthy Maui restaurants) for a reason. Located at the Fairmont Kea Lani, this upscale eatery has a produce-driven menu with a fresh take on classic Hawaiian fare. Look out for the poolside lighting of the tiki torch.
Huihui
A Hawaii-based restaurant serving the most delicious and mouth-watering fresh food. Each bowl is crafted with local flavors and ingredients that just taste so damn good. You'll also experience local recipes from traditional Hawaiian culture with a bit of fusion from worldwide food.
Star Noodles
Chef Sheldon Simeon won Top Chefs and decided to open up a restaurant in Hawaii. (Dream life?) Though the kitchen is now helmed by Cesar Perez, the Asian fusion restaurant still serves up the perfect garlic noodles, ahi avo, and, unfortunately, long lines. It's best to make a reservation in advance, but it's completely worth the wait if you don't.
Where to Drink
---
South Shore Tiki Lounge
Remember the bar in Forgetting Sarah Marshall? Well, it's fictional, but this one is as close as you will get. The tiki vibe includes bamboo walls and surfboard ceilings; you'll get a good mix of tourists and locals. Bonus: the drinks are cheap and the music is loud, so you know you're in for a good time.
Ululani's Hawaiian Shave Ice
Though technically not a bar, this shaved ice spot is just as refreshing and mouth-watering. The OG stop of shaved ice in Hawaii, the store now has seven locations across the island. Ulalani's is famous for its over 55 flavors of syrups that let you mix and match to your tastebuds' desires. BYO booze, we don't judge.
Maui Brewing Company
Grab a beer at Hawaii's largest local craft brewery to get a taste of real Hawaiian nightlife. The location boasts an array of beers you can only find on the grounds of the brewery and also a full gastropub if you've worked up an appetite. (Our recommendation is to order a beer and fries with house-made ketchup and mustard, infused with beer.)
Where to Stay
---
Fairmont Kea Lani
If you're looking for the full package, head to the Fairmont Kea Lani. This luxury resort composed of newly renovated suites and villas features a full-service spa, award-winning restaurant, and a White Lotus-esque canoe experience. Whether traveling with others or solo, it's the perfect place to recharge and reset with the best accommodations and services at your fingertips. Book your stay here.
The Ritz-Carlton Maui, Kapalua
If you're looking for the real Maui experience, post up on this classic property, which recently underwent a $100 million renovation, complete with lanais, hammocks, sun decks, and fire pits (no big deal). Visitors are greeted by the gorgeous Kapalua bay, plus views of the nature and mountains of the island's western tip. The biggest draw is the Plantation golf course, home to the PGA Tour's opening event of the year. It also has hiking and is arguably the best breakfast buffet we've ever seen. Breakfast ramen, anyone?
Wailea Beach Resort
The Wailea Beach Resort captures all of your favorite parts of island living in one accessible, family-friendly paradise. Situated within walking distance of two beaches—Ulua to one side and Wailea to the other—this oceanfront property has it all, and many of the amenities and activities come included. Choose from the kiddie pool complete with water slides, the lively adults-only pool, and the newly-opened private luxury pool at Olakino. Drop the keikis off for a day of fun cultural activities, and head to Olakino for some rest and rejuvenation. Don't miss the sound healing, snorkel tours, or Humble Market Kitchin, celeb chef Roy Yamaguchi's on-site eatery. And in case you were curious, the water slides are open for adults. Consider them thoroughly ELLE-approved.
Beauty Picks
---

BeautyDirector
Chloe Hall oversees all beauty coverage at ELLE.com. She knew she wanted to get into beauty the moment Donna Summer came on her screen and she's been chasing the perfect disco shadows ever since. Her sweet spot is the intersection of beauty with current culture, whether it's music, movies or social media. You can find her in Brooklyn with her pug or in Rihanna's comment section.

Deputy Editor
Claire Stern is the Deputy Editor of ELLE.com. Previously, she served as Editor at Bergdorf Goodman. Her interests include fashion, food, travel, music, Peloton, and The Hills—not necessarily in that order. She used to have a Harriet the Spy notebook and isn't ashamed to admit it.
Associate Fashion Commerce Editor
Meg is the Associate Fashion Commerce Editor at ELLE.com where she researches trends, tests products, and looks for answers to all your burning questions. She also co-writes a monthly column, Same Same But Different. Meg has previously written for Cosmopolitan and Town & Country. Her passions include travel, buffalo sauce, and sustainability. She will never stop hoping for a One Direction reunion tour.