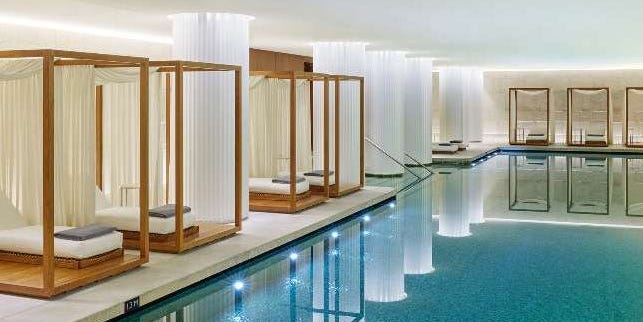 The Best Spa Hotels in the UK
BOOK
From the second you walk into the perfumed foyer of Bulgari's London outpost, it's clear you're in one of the capital's most luxurious hideaways.
The spa itself is truly in a league of its own: from the properly sized, cabana-flanked pool (which sits five floors underground and is blissfully silent) to the gilded jacuzzi and multiple (multiple!) steam rooms, there is no better place to while away an entire evening than here.
The treatments are, of course, outrageously decadent: in-house brands include the formidable 111 Skin (try the Celestial Black Diamond Facial) and the Ayurvedic Mauli Rituals, which will deliver a massage so good you'll likely shed a tear.
So far so appealing, but for a real special-occasion booking it's resident esthetician Adeela Crown you need – in fact, she's usually booked up by the actual Hollywood elite, so be sure to claim your spot swiftly.
For something more specific, there's a physiotherapist, osteopath and and a reformer pilates instructor at your service. Essentially, your every whim – no matter how indulgent – ​​is well and truly catered for.
Bulgari Hotel London, 171 Knightsbridge, London SW7 1DW