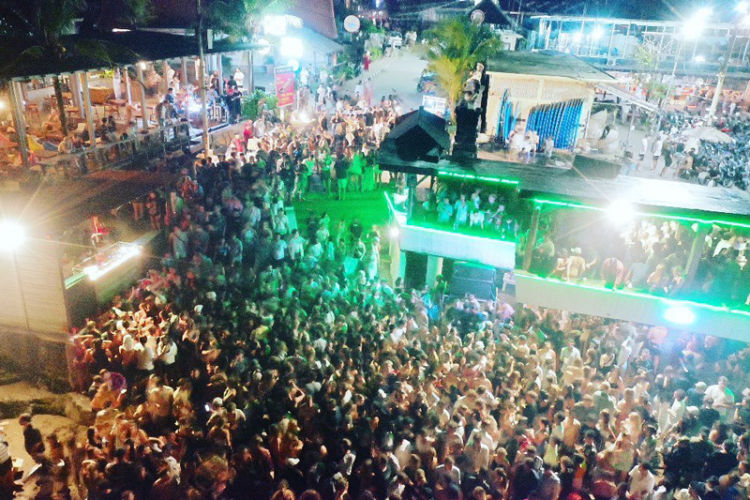 The Complete Party and Clubbing Guide to Canggu
A quick guide on where to go on any particular night in the Canggu area
First, every sunset most of the Canggu community heads to the beach to chill out for the last hour of the day. There are a whole bunch of choices, which you can find on this link, but what we are talking about on this page is the after-dark nightlife of Canggu. Read on friends.
After Covid things in Canggu have changed a lot in some ways, but haven't changed much at all in other ways. Old Man's was gone for a while, but is now back with a new look, just opening again in August, and a lot more has come and gone too.
When it comes to parties, you are still going to find something going on every night of the week. Disguised as a large pizza joint (the pizza is incredible btw), Luigi's Hot Pizza kicks off the start of the week with the PNNY crew every monday night from 8 – 12pm playing eclectic house beats to jackin' techno. If you are up for a late-night boogie, head down to the beach end of Batu Bolong any night of the week, where Sandbar is crowded pumping the hip hop commercial sounds from around midnight. Designer used to be down that way but are now in the Echo Beach area and open till very late (now Thurs to Sunday).
Tuesdays are quite laid-back with the main action happening at Shady Pig with their Nikat Records night from about 10pm.
Wednesdays are one of the biggest nights of the week. With mounds of people all over the streets. Wednesday is the biggest night at Old Man's, get down there for the beer pong comp. Loads of fun, loads of people. backyards can also pull a crowd, across the road from the Tugu Hotel. Mason Backroom, is where the more sophisticated crowd head for groovy house tunes from 9pm – 3am. And after all that you can end up at Sandbar where commercial music goes on until about 4 – 5am.
By the time your hangover from Wednesday is over, it'll be Thursday night and the gnarliest spot on a Thursday is pretty Poisons. Think backyard skate bowl meets European dungeon nightclub. Tattoos, skate bowl action and live DJs playing everything from rock & roll, hip hop to techno. Walk over to Black Cat Mini Market next door and check out their fridge in the corner for a cheeky surprise.
If you're looking for a dope Friday night party, there are several options! Black Sands is always busy on Friday evenings with special price brews. The Lawn Friday nights go from 9pm till 1am with half price on selected drinks and a range of disco, house, RnB and hip-hop tunes. God lights up the night with live stand-up comedy every Friday evening. Morabito Art Villa in Berawa has a regular Friday evening party with big name, mainly underground, DJs. vault is a safe bet on a Friday later, always supplying great house/techno music. The crowd can also be found at Masons sipping cocktails and moving to the beats till 3am. Techno and house can be heard at desk until 4am. And as usual, Sandbar picks up the late-night party people to end another wild night on the beach in Canggu.
Saturdays nights usually depend on whether there are any headliners at the clubs. One of the biggest parties on the island are La Brisa's Basement Love x PNNY events, bringing some of the most renown house & techno acts to the beach club on a bi-weekly schedule (sometimes longer), and other visiting performers. Mason Backroom usually pulls a crowd on a Saturday till 3am. Regular events include Vault's hip hop nights with the PNNY crew, and Designer with the hard techno.
Sunday's are actually a lot of fun. God are the pioneers of Sunday nights in Canggu. They boast beer on tap, a large crowd of expats, tourists and locals with live music action. Deus also hosts Tuesday nights with free tattoos and tacos. Something different is the drag queens Bingo Sunday night at Fat Mermaids. desk do their house music nights on Sunday and you can head to the beach at Sandbar till you drop.
That wraps up our tour through Canggu, remember to stay safe, wear a helmet and don't drive if you're drunk. Have fun out there!