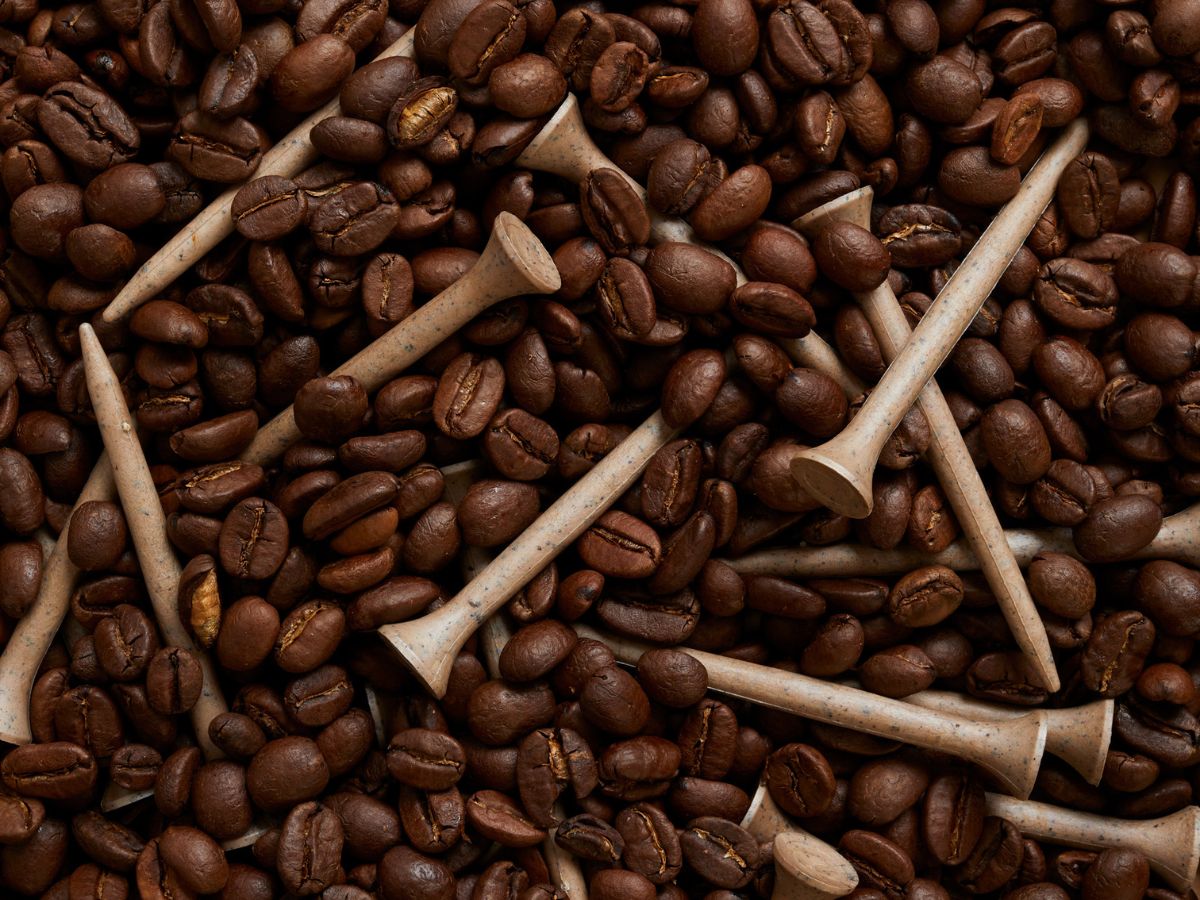 Upcycled coffee grounds tee off golf sustainability drive –
A new initiative designed to boost the sustainability of golf will see waste coffee grounds collected from New Zealand cafes upcycled into biodegradable golf tees for the domestic and international markets.
The innovation is part of a move towards reducing the environmental impact of golf as well as the amount of food waste in the hospitality sector which is diverted from landfills.
The coffee supply chain reportedly contributes to the global climate impact and over 2.25bn cups of coffee are consumed globally every day, producing 18 million tonnes of coffee grounds as a by-product annually.
This volume of organic waste is typically sent to landfill where it releases 2.3bn cubic meters of methane (a greenhouse gas 25 times more potent than carbon dioxide over a 100-year period) and other greenhouse gases as it decomposes – a global warming impact equivalent to the entire annual CO2 output of France.
While golf is often perceived to have a low environmental footprint as an outdoor sport, its 38,000+ courses around the world have been criticized for their lack of biodiversity and high water utilization levels.
Kael Deherrera, co-founder of Vollē Golf, which has launched the initiative, says most of the estimated 8.5bn tees used by golfers annually are made from plastic, wood or bamboo and each creates its own environmental legacy.
He says it is particularly frustrating to see plastic tees on the golf course as while they are durable, they don't last forever and will eventually enter the ecosystem.
"Globally golf is growing in popularity and there are now over 66 million players around the world.
"In New Zealand, our 500,000 golfers play an estimated seven million rounds and use around 28 million tees annually.
"We know that tees have a finite life cycle and many are bent, broken or lost on their first use.
"Sadly these often single-use tees are rarely picked up from the fairway and will be left in the environment to decompose. Those made from plastic will eventually be degraded by UV light into microplastics which enter the food chain.
"The production of wooden and bamboo tees involves unsustainable harvesting, excessive waste, and significant transportation, and is printed with chemicals that can also leave harmful residues as they break down – all contributing to a higher carbon footprint.
"Our primary objective in developing a product from biomaterials is to reduce New Zealand's reliance on imported tees and to help address the impact of food waste as a major contributor to greenhouse gas emissions.
"At the same time, we recognize the opportunity to improve the sustainability of the sector to support our growing golf tourism industry," he said.
Jacob Cameron, Auckland Golf CEO, says golf bodies around the world are working to improve the sustainability of the sport.
He says locally, the industry is implementing new standards to become GEO Certified – an international measure for environmental and social responsibility in golf.
"In Auckland alone over 535 hectares of publicly-owned land is used for golf courses and there is a growing awareness of the opportunity this presents in the creation of environmentally conscious green spaces that are integrated into the community.
"With urban land values ​​increasing globally, there is increasing pressure to find alternative uses for the land used by golf courses – particularly from residential housing developers.
"We recognize the role we have to play at a regional level in Kaitiakitanga or guardianship of the land, particularly in the face of climate change, and have introduced a number of initiatives to improve the sustainability of the game as well as addressing the needs of the surrounding area – including supporting flood mitigation.
"In practice, these programs range from native planting, pest control, water and energy use reduction and waste management.
"Sustainable golf products such as coffee tees form an integral part of our future waste minimization strategy and provide a pathway to help us remove plastic from the game and the local eco-system," he says.
Deherrera says the initial response from golf pro shops in the New Zealand market has been positive and they have also begun exporting to Australia.
He said in the project's first stage, the first batches of upcycled tees have been produced in Europe but through a new IP-sharing investment partnership with a Danish startup, they plan to create an export manufacturing hub in New Zealand this year.
"The tees are made from a blend of biomaterials including coffee grounds, sugar cane and vegetable oil – which are baked during an injection molding process.
"The zero waste process is able to re-use any surplus material and any tees that are broken during gameplay can also be collected and recycled into new products.
"Each pack of 25 tees uses the same amount of coffee grounds as a double espresso shot and the next stage of our development will create products using only certified organic coffee waste.
"Every tonne of upcycled coffee grounds helps avert 340m3 of methane gas, which is equivalent to the emissions produced by driving 66,643 km in an average passenger vehicle – in the first year alone we expect to divert the equivalent of 40,000 cups of coffee waste from landfill and upcycle this into new products.
"There are around 350 pro shops in the country and based on the initial rate of demand for our first trial shipment of tees from Europe, we expect to set up a local contract manufacturing facility in the coming months," he says.
Deherrera says the design of golf tees has a significant role in ball impact, spin and the distance the ball flies.
He says initially they trialled the production of 3D-printed tees made with waste wood and bio-resins but they couldn't get a sufficient level of durability.
"We know that the production of tees is less heavily regulated by golf bodies than balls.
"In collaboration with Canterbury University, we have locally developed robotic golf technology which is being used to test the durability of the materials as well as create unique high-performance tees that improve the flight and range of the ball.
"Our research shows tees made with coffee grounds are 66% more durable than wood – which provides a strong rationale for the phasing out of products made with less environmentally friendly materials.
"The next stage in the development of these tees will be to add color variation to the product – helping to support the visually impaired as well as producing a castle tee which ensures a consistent height for players," he says.