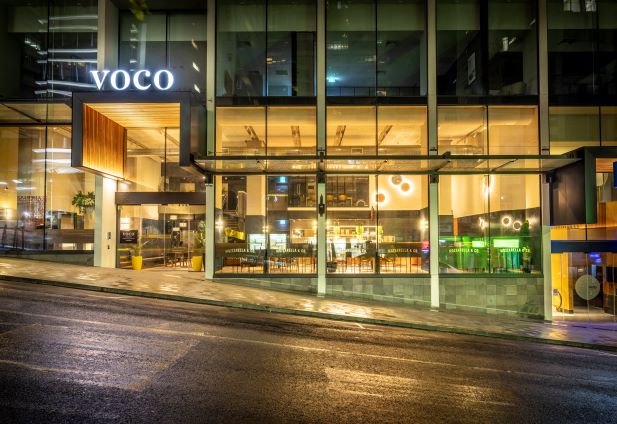 voco Auckland City treads lightly with sustainability trifecta –
the voco brand made its New Zealand debut with the opening of voco Auckland City Centre, and this May the hotel is celebrating its first year of sky-high stays, accolades and sustainable milestones centered on its 'tread light' philosophy.
Last week, the dual-branded tower development voco Auckland City Center that also includes the Holiday Inn Express City Center was awarded a trifecta of Master Builders Commercial Project awards and were crowned winners of the Commercial Project Award Over $25m, Built Tourism and Leisure Project Category, and the Master Builders Supreme Award for 2023.
In just 12 months, voco Auckland City Center has cemented its reputation as one of the city's most popular and glamorous rooftop destinations with Bar Albert, NZ's highest hotel rooftop bar at level 38, serving over 8,500 cocktails.
On Friday night (26 May), voco Auckland City Center hosted a first birthday soiree at Bar Albert which was attended by over 80 special guests including hotel partners, suppliers, and media. Signature Bar Albert cocktails, Champagne and canapes flowed while music entertainment duo, Jasper and Jane Hawkins brought the vibes to the party.
Pro-invest Hotels, Area General Manager, New Zealand, Fraser McKenzie, said "voco's first year in New Zealand has been a bright journey and we're proud to have delivered signature voco moments to over 50,000 guests.
"We're proud of the hotel's contribution to the city's tourism and hospitality economy, particularly with Bar Albert giving both in-house guests and Aucklanders an exciting social experience and a taste of the 'voco life' high above the city."
"A stay at voco is all about refreshingly different accommodation and our sustainability hallmarks have been designed for us to tread lightly on the environment. We have worked hard to achieve Level 3/Level 4 Green Engage certification thanks to initiatives such as bedding made with 100% recyclable materials (equating to over 150 plastic bottles per room recycled), aerated shower heads that reduce water usage and energy consumption for heating water, and large, refillable Antipodes amenities in the bathroom that reduces plastic waste by up to 80% compared to miniatures, and a HVAC system to improve air quality and heat recovery.
"Our team's fun, unstuffy service style has meant that we've charmed many new loyal guests to the voco brand, and it's been fantastic to give IHG Hotels & Resorts' One Rewards business and leisure guests a new, upscale hotel to work, stay and play in Auckland's city centre. Conferencing, meetings, and events have been performed strongly across our five versatile meeting rooms, vibrant restaurant, and rooftop bar. With stylish decor, state-of-the-art technology, and stunning views of the city, our unique spaces continue to inspire and impress guests."
"We are so grateful to our partners, the hospitality and travel industry who have welcomed the hotel so warmly, and we are delighted to be celebrating the Master Builders Award wins alongside our 1st anniversary with guests, clients, and industry partners this month," concluded Fraser.
To celebrate, voco Auckland City Center has launched a special 1st anniversary accommodation package which includes a bottle of Laurent Perrier Brut Champagne on arrival to toast the occasion, complimentary breakfast for two, and complimentary valet parking – a combined added value of $259 per day.